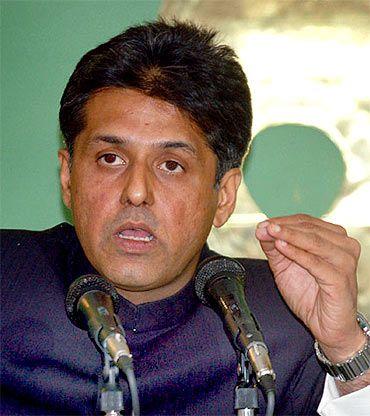 Ahead of the Congress Working Committee meeting on Monday, party leader Manish Tewari said the resignation of the party leadership after the poll debacle is not the way forward.
"The results have been extremely disappointing… I don't think the resignation and the designations are the way forward," the former Information and Broadcasting minister said in response to a question on whether Congress president Sonia Gandhi should step down taking moral responsibility for the party's poor show in the just-concluded Lok Sabha elections.
Tewari said there is a need to introspect on not only what went wrong for the Congress, but also to find out what went right for the opposition. "There is a need for exhaustive process of analysis and exhaustive introspection. It is only through this process that we would then be able to start the process of reconstruction of the party," he told a news channel.
Complete Coverage: Elections 2014
The CWC, which is the highest decision making body of the party, would come up with conclusions on these issues, he said. The CWC meet is likely to witness some leaders raising uncomfortable questions about the party's campaign and alliance strategy.
Party sources have already ruled out reports of Sonia Gandhi and party vice president Rahul Gandhi offering to resign in wake of the debacle.