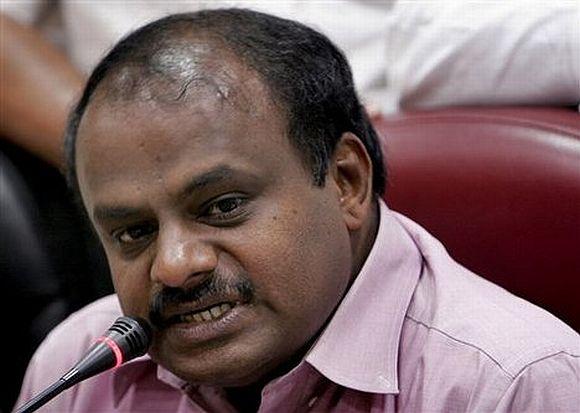 While the Bharatiya Janata Party banks heavily on the Narendra Modi wave in Karnataka, former chief minister and Janata Dal-Secular leader H D Kumaraswamy says the wave is artificial, and that his party would be part of the next government to be formed at the Centre.
In an interview to Rediff.com's Vicky Nanjappa, Kumaraswamy, son of former prime minister H D Deve Gowda, says that both the Congress and BJP say Rahul Gandhi and Narendra Modi will be prime minister respectively, "but what I want to ask all of them is, are we not there?"
Is the JD-S ready to support the candidature of (Tamil Nadu chief minister) J Jayalalithaa as prime minister?
My father had said that she is welcome to be the prime minister. He had said that he wholeheartedly supports the candidature of Jayalalithaa for the prime minister's post, provided such a favourable political mobilisation takes place.
Whether or not she becomes prime minister would entirely depend on the numbers she has at the end of the elections. My father is also in favour of Bihar Chief Minister Nitish Kumar or Samajwadi Party chief Mulayam Singh for the PM's post.
The JD-S has been very vocal about the Cauvery water dispute. But now you are supporting Jayalalithaa. What message does that send to the people?
The Cauvery waters issue will not be a problem here. My father was the prime minister and we had Tamil Nadu's support. Did it become an issue? No, those issues are different.
Who according to you will be the prime minister of India?
The BJP says Modi, while the Congress feels it will be its vice president Rahul Gandhi. I personally feel neither of them will become prime ministers. Before anyone jumps to any conclusion, I want to ask all of them, "Are we (the JD-S) not there?"
What do you think of the Modi wave? Is there one?
This is an artificial wave created by the BJP by using the money that they collect from corporates. Modi's attacks on the regional fronts are more out of fear, since he feels that we may hurt his ambition to become prime minister. People know that we have a good track record which has been proved during the governments run by my father and I K Gujral as prime minister. We do not need a certificate from Modi.
Former chief minister B S Yeddyurappa is back with the BJP. Will it make a difference to the saffron party?
It will make no difference to the BJP. In fact, it may hurt the party and it will result in an advantage for the JD-S. We are confident of that.
What about your own candidature? Where are you contesting from? Will you fight former chief minister Veerappa Moily (Congress) at Chikkaballapur?
Personally, I do not want to contest the elections as I want to be part of state politics and address the issues here. I will weigh everything if I contest the elections. But before I take any decision to contest from Chikkaballapur, I will need to interact with the people of Bangalore Rural, who elected me in 2009.
There have been media reports that we may not retain Bangalore Rural after we lost the last time in the by-elections. However, this time I am very confident that we will retain the seat. We have everything in our favour in Chikkaballapur.
The people want a member of the Deve Gowda family to contest. The first choice was my wife Anita Kumaraswamy, but due to health reasons she will not be able to contest. But I am sure the JD-S will win there.
Will C K Jaffer Sharrief, who was denied a ticket by the Congress, contest from Mysore on your party symbol?
Only Sharrief will decide if he wants to contest from Bangalore Central or Mysore. He has said that he will only make a decision after his Mecca visit. But I am confident we will win from Mysore.
Realistically speaking, how many of the 28 seats you believe the JD-S will win?
We have identified 16 to 17 constituencies where we are strong, and our analysis shows that we are in with a good chance of winning 12 to 13 out of those.
There are a lot of people who have left the Janata Parivar and joined either the Congress or the BJP. How does that affect you?
There is going to be a major change after this election. As the environment suggests, many members who left the Janata Parivar will return. Many of them who joined either the Congress or the BJP will come back.
Does that include (former Janata Party president) Subramanian Swamy too?
I am talking only about Karnataka.
What about (current Karnataka chief minister) Siddaramaiah?
He says this is his last election. We are not implying anything, but only quoting him. He had made it clear that the previous election was his last and he will take political sansyas after that. I feel if he does not contest any more elections, then he should be part of politics and be an advisor to a political party and share his experience.