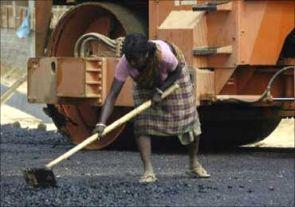 The state bifurcation is an issue raised by all parties campaigning in the Seema-Andhra region which goes to poll on May 7. While the issue is significant, people in the region now feel it is time to move on and talk about development.
Rediff.com's Vicky Nanjappa spoke to a cross section of people in the region and also with some local leaders to understand what exactly the people want. The feedback was unanimous -- they want development.
Tourism: People want the long coastline in Seema-Andhra to be utilised to generate income for the state. They want their beaches to be converted to tourist destinations.
Education: There are scores of educational institutions in Seema-Andhra and people in the region say that if more emphasis is given to education, Seema-Andhra will produce the best talent needed for developing the region.
IT infrastructure: Hyderabad is considered to be an IT city. However, there us a feeling that Hyderabad is only a temporary arrangement and it is necessary that a good IT structure is set up in Seema-Andhra. People specialising in this field should be encouraged and to put together the IT infrastructure in the state.

Industries: There is a need to focus on the development of industries. More industries in each of the backward districts of Seema-Andhra need to come up. This would not only help the economy but also generate more employment.
Ananthpur, Vizianagaram, Kadapa and Chitoor are backward and special status needs to be granted. There is a need to tap the potential in these places and help the people develop land and small scale industries.
Agriculture: Farmers in the Seema-Andhra region feel they should be given more opportunities. Agriculture should be the primary focus of any government that comes to power. Development should not be limited to the urban areas. People want to make the best use of the Krishna and Godavari rivers for development of irrigation projects.
Road development: The lack of proper roads or even connectivity has only ensured that a considerable number of villages in Seema-Andhra have remained underdeveloped. In Seema-Andhra only the rich have got richer and a large part of the region has remained neglected. Roads are the key to development and should be given top priority.
Airports: Vishakapatanam and Vijayawada airports should be made into international standard airports. International connectivity to Seema-Andhra will be crucial to the development of the region.
Capital: The most important of them all is the new capital for Seema-Andhra. In all probability Mangalagiri is likely to become the new capital, although a final call is yet to be taken. It is being said that around 450 hectares of forest land is to be declassified to pave the way to build a new capital. Mangalagiri was also suggested due to its proximity to Vijayawada and Guntur.
Image used for representation purpose only