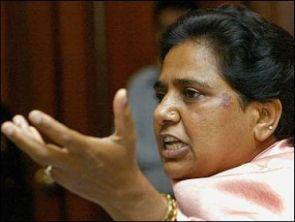 Bahujan Samaj Party chief Mayawati on Tuesday slammed Narendra Modi for his statement vowing to cleanse Parliament from criminal elements, saying it was a case of the pot calling the kettle black.
"People should remain alert from statements made by Modi. He had said yesterday that Parliament will be free from criminal elements after he became prime minister. This statement is like ulta chor kotwal ko daate," Mayawati said. "In reality, there are tainted, corrupt, criminal candidates in large numbers in Modi's Bharatiya Janata Party. This had led to resentment within the BJP. He (Modi) should have introspected before making such a statement", she added.
Complete Coverage: Election 2014
Mayawati also alleged that the BJP-led National Democratic Alliance had trapped her in the Taj corridor and disproportionate assets case but she got justice from the Supreme Court.
Alleging that free and fair polls were not possible in the state under the Samajwadi Party regime, Mayawati asked the Election Commission to deploy adequate number of central forces. "The forces should be deployed especially in Yadav dominated feudal areas," she demanded.
She also added that SP chief Mulayam Singh Yadav's decision to contest elections from Mainpuri and Azamgarh was a well-planned strategy to give Hindu-Muslim colour to elections in eastern Uttar Pradesh. "I want to ask the Chief Election Commissioner to keep an eye on internal settings between SP and BJP and their game plan," she added.
When asked about the inflammatory speeches made by BJP leaders, Mayawati said that they were continuously giving such speeches and their top leaders had turned a blind eye towards it, which showed that they themselves approved of such acts and that the EC should take strict action against them.