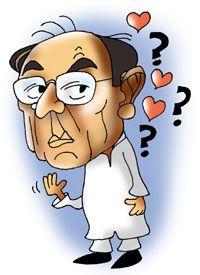 The Congress motormouth finds his guru in the way of his romance. Illustration: Uttam Ghosh/Rediff.com
Is the Digvijaya Singh-Amrita Rai love story going wrong?
The Congress general secretary is uncharacteristically mum and his love, a television news anchor, is battling some anxious moments.
The twist in the tale has come from Digvijaya's spiritual guru, the Shankaracharya of Dwarka Peeth, Swami Shree Swaroopananda Saraswati.
Digvijaya had reportedly gone to meet the Shankaracharya to seek blessings for his second marriage. But the seer is said to have refused to give his nod.
During the 20-minute meeting at the Paramhansi Ganga Ashram in Shridham, Madhya Pradesh, Swaroopananda reportedly cautioned Digvijaya and insisted that his blessings can only be sought on matters of public interest.
Digvijaya, who had candidly admitted his relationship with Amrita earlier on Twitter, is now refusing to say anything on the subject.