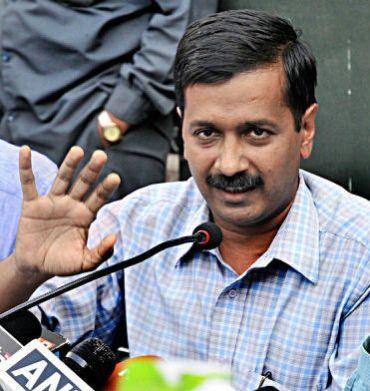 Aam Aadmi Party chief Arvind Kejriwal has been issued a notice to appear within 10 days at a local court in Kutch district, Gujarat for his alleged breach of model code of conduct during his fact finding tour of Gujarat last month.
Gandhidham Judicial Magistrate K D Prasad ordered Kejriwal to appear before the court in connection to the violation of the election code -- using a loud speaker at Rishabh corner area of Gandhidham without prior permission.
The Gandhidham police had lodged a First Information Report against Kejriwal and five other party workers on March 6 while the former Delhi chief minister was in the state for his four-day check of the state. Cops have charged six persons, including Kejriwal, under Section 188 of the Indian Penal Code for showing disobedience to order, duly promulgated by a public servant. If the offence is proven, Kejriwal can attract a jail term of up to six months and a fine up to Rs 2,000.
"Police had earlier arrested four AAP workers for breaching the district collector's notification, who were later freed on bail," said Gandhidham B division police inspector PM Parmar.
Kejriwal's Gujarat tour was mired in controversy when he ended up with three Election Commission complaints against him for breaching poll norms. He also faced two other cases for non-payment of road toll and for his alleged unparliamentary utterance against a few Bharatiya Janata Party functionaries. Additionally, he was briefly detained by the Gujarat police for causing traffic disorder following his party's cavalcade.