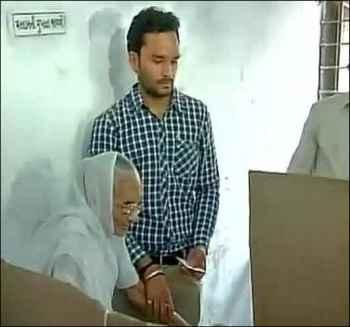 Gujarat Chief Minister and Bharatiya Janata Party's prime ministerial nominee Narendra Modi's octogenarian mother Hiraben cast her vote in Gandhinagar on Wednesday like a typical common person.

She was one of the early voters. Clad in a white saree, she reached the polling station by an auto-rickshaw. She was assisted by polling officials on duty but was not provided any special facilities.

As always, she blessed her son to become the country's next prime minister.

"My son Narendra is destined to become the prime minister of India," she has often told the media before.
Image: A video grab showing Narendra Modi's mother Hiraben casting her ballot at a polling booth in Gandhinagar on Wednesday