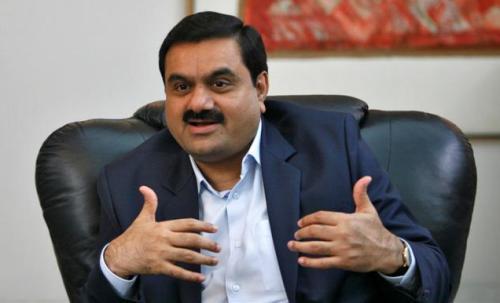 Pathan brothers turn down Congress ticket; Rahul's impersonal ways; Modi on DD; RaGa's loss, NaMo's gain. All this and more from the election battlefield.
Did you notice how Adani shares have dipped in value?
Why? Because people apparently think that Narendra Modi, if he becomes PM, won't be able to favour his friend Gautam Adani, left, what with the Congress, AAP and the Delhi media all keeping Adani companies's affairs and its linkages to the Modi PMO under a huge magnifying glass.
***
Pathan brothers say 'no'
Irfan Pathan and his brother Yusuf Pathan were offered a Congress ticket, but both cricketers refused, saying they want to play cricket for India for at least two more years.
Munaf Patel, the medium pacer, was offered the Bharuch seat, but he took a month to think about it, then declined.
***
Impersonal Rahul
The biggest complaint against Rahul Gandhi is that he doesn't establish a personal rapport, however minimal, with party men all over India.
Congressmen love to boast, "Soniaji asked me about my daughter" and "Indiraji knew my grandfather very well, see this photo."
A senior Congress leader from Vadodara said, "Rahul never recognises us in spite of working hard for his meetings, nor does he even remember our names."
***
DD comes to Modi
There are fresh signs of an expected NDA victory.
One, Doordarshan thought it fit to interview Narendra Modi.
Two, secretaries of different departments are preparing notes for the next government, keeping in mind that it is Modi who will be coming in and not any unknown leader.
How do they know Modi is the final choice?
Intelligence Bureau sleuths have started showing funny videos and hilarious smses, ridiculing the Congress and the Gandhis, in media offices.
Like this one, for instance.
***
RaGa's loss, NaMo's gain
Doordarshan had written to both Rahul Gandhi and Narendra Modi, requesting interviews. Modi granted an interview in three days flat, while RG didn't reply.
Modi went on and on till the interviewer's questions were exhausted.
See how many controversies Modi could stuff into an an hour-long chat!
***
May 17: Apocalypse now
Start worrying about post-election blues, man!
On the morning of May 17, how empty will India feel!
No suspense, no excitement, no abuses and no glimpse of the day's designer handloom sari draped on Priyanka Gandhi-Vadra's lissome frame.
More Elekshun Gupshup: What EC can learn from Modi