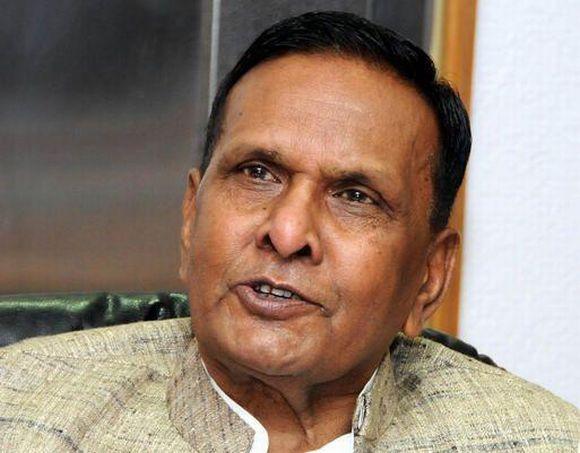 Taking cognisance of their alleged controversial remarks against Narendra Modi and Azam Khan respectively in election speeches, the Election Commission on Thursday issued show cause notices to Union minister Beni Prasad Verma and Bharatiya Janata Party leader Vinay Katiyar for prima facie violating the Model Code of Conduct.
They have been asked to put forth their stands by Saturday morning failing which the EC will take action without further referring the matter to them. The show cause notices were issued following complaints and reports by poll authorities in Uttar Pradesh. The EC has already expressed displeasure at Verma's 'biggest goon' remark against Modi.
Referring to Katiyar's speech made in Sant Kabir Nagar in UP on April 15, the EC notice quoted him as saying that the Muzaffarnagar riots were bigger than Gujarat riots. He had reportedly said that 'no attempt' was made by the UP government to check the riots and senior Samajwadi Party leader and UP minister Azam Khan was given a 'free hand' to issue directions to administration officials.
Katiyar had said that once Modi became prime minister, the riots would be probed and it would be 'ensured' that Khan is sent to jail as he had planned the violence last year in west UP.
On the other hand, while addressing a public meeting in Kanpur on April 20, Verma had reportedly said that once Rahul Gandhi became the PM, Modi and his close aide Amit Shah would be jailed for life for the Godhra riots. He had reportedly said that as a 20-year-old Modi had committed a major crime and fled home. He had said the Modi will never reach the PM's post and instead go to the graveyard. The two have also been provided with copies of CDs carrying their remarks.
Complete Coverage: Election 2014
Image: Union minister Beni Prasad Verma had reportedly said that Modi fled home after committing a crime at the age of 18.