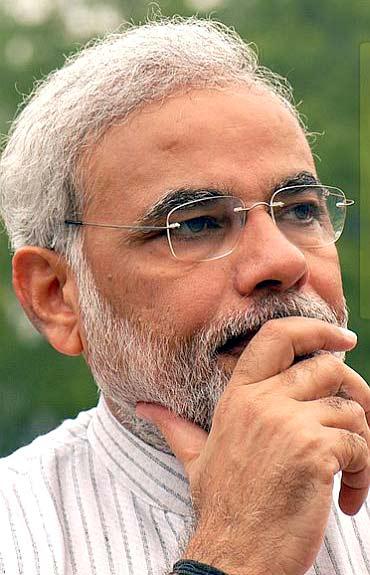 Congress on Monday petitioned the Election Commission demanding immediate action against Bharatiya Janata Party's Narendra Modi for his video message to voters during polling in the last phase in 41 constituencies, including Varanasi, claiming that it was a violation of the electoral laws.
All India Congress Committee secretary and in-charge of the legal cell K C Mittal shot off a letter to Chief Election Commissioner V S Sampath and other ECs, saying that Modi's address seeking votes in his favour on the day of polling is a clear violation of law. "His (Modi's) address to voters in Varanasi seeking votes for himself is a clear violation of the provisions of the Representation of People Act and the Model Code of Conduct," said Mittal, adding, "It is, therefore, requested that immediate necessary action may kindly be taken against him as also the BJP."
The Congress leader added that social media has now been covered within the MCC and his addressing the voters in Varanasi and other constituencies, where canvassing had been stopped from May 10 from 6 pm onwards, was a violation.
Congress leader Ajay Maken also commented on Twitter. "How can the channels show Modi's speech today in violation of the code of conduct? Election Commission should take cognisance immediately," he tweeted.
With polling in Varanasi underway in the last of the nine-phase election, in his message Modi spoke about the Ganga-Jamuni tehzeeb of the holy city and appealed to its voters to reflect its spirit of unity and harmony through their votes. "I appeal to people to cast their votes in the last phase of polls with the same zeal and enthusiasm they have shown so far. My brothers and sisters in Kashi, the honour of Kashi is in peace, harmony and unity... we should love each other and take everybody along," Modi said.
Complete Coverage: Elections 2014