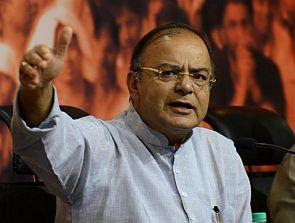 Senior Bharatiya Janata Party leader Arun Jaitley said on Sunday that the relationship of Rahul Gandhi with Amethi is "nominal" and it remains one of the most backward constituencies in the country.
"Despite having been a family stronghold for decades, the relationship of Rahul Gandhi with Amethi is nominal and it remains one of the most backward constituencies," Jaitley said in his blog.
Expressing his views about Amethi, he said, "Infrastructure in Amethi is inadequate. It is a constituency where internal roads are not the object of envy. Many industrial units are sick. It is a constituency of people living in inadequate houses."
Jaitley said that his party is determined to put up a fight in Amethi.
"The tragedy of Amethi is that the voters were never presented with an alternative option. The BJP is determined to put up a fight for Amethi."
On BJP's nominee from Amethi Smriti Irani, he said, "Smriti Irani is a formidable candidate. Whenever her vehicle reaches any village it is greeted with loud cheers for her, the BJP and Modi."
Saying that there was a strong anti-incumbency against sitting MP Rahul Gandhi, the BJP leader said that, "Tokenism is never a substitute for substantive performance in a constituency. Family ties are not the alternative to improvement in the quality of life of the electorate."
However, he did not deny that Aam Aadmi Party can divide the votes. "We must convince the electorate that a vote for the AAP will only divide the anti-incumbency. Let Amethi be an electoral battle right till the last vote is cast," he said.
Talking about the Rahul Gandhi's "No" to the "Third Front", Jaitley said, "Rahul Gandhi has categorically said that his party would not support the Third Front. (But) its earlier track record does not inspire confidence in the statement."
He said that the Communist Party of India-Marxist leader Prakash Karat has simultaneously said that for a 'secular' combination to come in place they will need Congress' support.
"If the NDA gets a majority on its own or is within a striking distance, the Congress need not take the trouble of cooperating with the Third Front. The NDA will then be a reality. These options arise only after there is a hung house," Jaitley said.
The BJP leader said it was unlikely that the Indian electorate this time is going to give a half-hearted mandate.
Speculating over the future policy of the Congress, he quipped, "The best case scenario for the Congress is a rag tag coalition to keep Modi out. The choice now is clear. It is either a Modi-led NDA or a chaotic coalition."
"Obviously, a chaotic coalition cannot be an option," he concluded his blog.

Image: Senior BJP leader Arun Jaitley