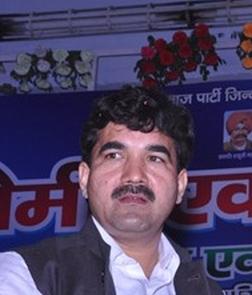 Bahujan Samaj Party candidate Mukul Upadhyay on Saturday became emotional and broke down while addressing a rally in Ramlila ground of Kavinagar area. The incident took place shortly before BSP supremo Mayawati's arrival at the rally venue.
Addressing the huge gathering, Upadhyay appealed people to vote for the party and suddenly started weeping, saying, "I am working too hard in theses polls. For the last two months I wake up at 5 am and go to bed by 2 to 3 in the morning."
"Once I slipped in the toilet and my head was hurt badly," he said. Some other party leaders who were present at the dais came to his rescue and consoled him. Later he claimed that his rival candidate of the Congress, Raj Babbar, will not get even the second position in the polls.
"I am very confident of my win in the elections. If the Congress comes to second number, I would then quit politics," Upadhyay promised to people. The BSP candidate also came down heavily on the Bharatiya Janata Party and said "I would bury the BJP".
"BJP president Rajnath Singh ran away from Ghaziabad fearing his defeat and is now contesting elections from Lucknow. BJP has now fielded V K Singh, who is an outsider. By my win, I will bury the BJP," Upadhyay said while addressing rally.