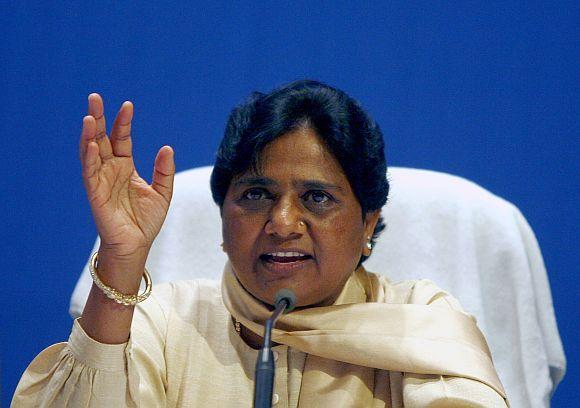 Bahujan Samaj Party supremo Mayawati on Friday said the Election Commission should take suo moto cognisance of the manner in which Bharatiya Janata Party prime ministerial candidate Narendra Modi filed his nomination from Varanasi at the time when the sixth phase of polling was being held all over the country, including Uttar Pradesh.
Complete Coverage: Election 2014
"Modi filed his nomination for the Varanasi seat on Thursday. At that time, polling for the sixth phase was being held all over the country including UP. The manner in which it was highlighted by the media in a one-sided manner is not right and the EC should take suo moto cognisance," Mayawati said.
"EC should take strict steps. It is not in the public interest," she added. Mayawati said that she had received information that the crowd, which assembled during Modi's rally was mostly called from outside the city. She said, "Following yesterday, I want to ask the EC to pay special attention on security, not only in Varanasi but all places in Poorvanchal having temples and mosques."
Mayawati alleged that an attempt was being made to create a favourable BJP air with the help of the media and funding of capitalists. Attacking the opposition parties, she said that when they come to power, they formulate policies to benefit capitalists. "People have to vote after much consideration otherwise the country will be pushed backward," she said.
Mayawati said that there was a fight between BJP and Congress to form the government. "While Congress is contesting by putting forward its yuvraj as the undeclared PM, BJP has put forward Modi," she said, adding that if Modi had to contest elections from UP, he should have contested against Rahul.
When asked about Congress promising reservation to Muslims, the BSP chief said that the party was misleading them. "In 1995, we were the first to give reservation to the backward among the Muslim community. If the Congress had to do it, it should have given reservation earlier. In reality it never looked into the interests of Muslims," she alleged.