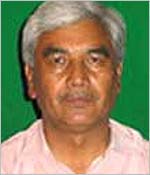 Scripting history, the Bharatiya Janata Party on Friday emerged victorious for the first time from the Ladakh seat with its candidate Thupstan Chhewang defeating Ghulam Raza by a slender margin of 36 votes.
In a nail bitting finish, Chhewang ended up with a tally of 31,111 closely followed by Raza, a former district Congress president, at 31,075. Raza had objected to the results after which the re-poll of postal ballots was done.
After complete satisfaction, the returning officer announced the results declaring Chhewang as the winner. The Lok Sabha seat had been won by Congress candidates since 1967 elections till 1996 except in 1989 when independent candidate Mohamad Hassan Commander was elected.
Complete Coverage: Elections 2014
From 1998, National Conference had wrested the seat from Congress till 2004 after which this seat has only been won by independent candidates. Chhewang had won in 2004 but as an Independent.
In Friday's election, another independent candidate Syed Mohammed Kazim stood third by polling 28,234 votes followed by Tsering Samphel of Congress with 26,402 votes.