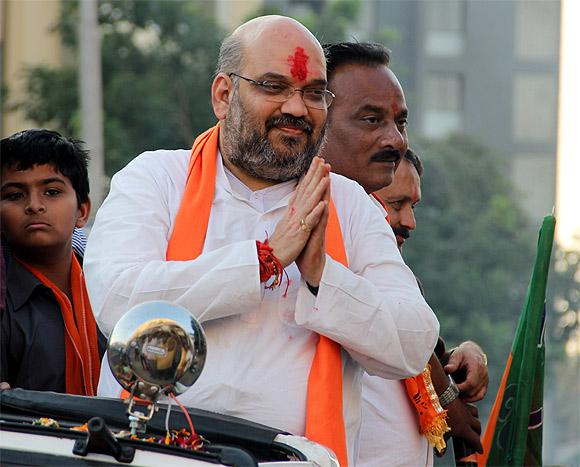 A day after Narendra Modi's close aide Amit Shah called Azamgarh a 'base of terrorists', the Congress, the Bahujan Samaj Party and the Samajwadi Party have rallied together, demanding Shah's arrest and a ban by the Election Commission from campaigning in Uttar Pradesh.
Shah's controversial comment made on Sunday also led to members of rival parties accusing Modi and Shah of carrying out a 'communal campaign.' "Such a statement violating the model code of conduct could vitiate law and order in Azamgarh and eastern UP. Gujarat can also be termed as a base of communalism and crime. I demand that the EC ban Shah in Uttar Pradesh," said BSP chief Mayawati. The former UP chief minister added that if persons of Azamgarh had done anything wrong, be it Hindu or Muslim, it does not mean that all people of the area are terrorists.
Complete Coverage: Election 2014
Meem Afzal, a Congress leader, demanded the immediate arrest of Shah and wanted the EC to place a countrywide campaigning ban on the Bharatiya Janata Party leader, accusing him of spreading communal tension. "The EC should not only order filing of a First Information Report against Shah, but also order his immediate arrest," Afzal said.
In addition to Afzal, Congress' Digvijaya Singh also attacked Shah on the micro-blogging site Twitter. He tweeted, "Modi/Amit Shah have come back to communal campaign from development. They have forgotten involvement of Sanghi activists in Modasa bomb blast." He added, "Modasa is in Gujarat. Azamgarh has been a symbol of Hindu-Muslim amity. It didn't have any riots in 1947 and 1992 post Babri Masjid demolition. I strongly condemn Amit Shah's statement about Azamgarh. Election Commission must take action."
Former Samajwadi Party leader Kamal Faruqui also condemned Shah's comment for associating terrorism with a place or community. "It is highly condemnable to defame a place or community for terrorism. Amit Shah can't keep a control on his tongue. He has already faced EC ire. Elections will be over in the next 10-12 days but hatred is being developed in people's heart. We condemn statements by any party or person to associate terrorism with a place or community," he said.