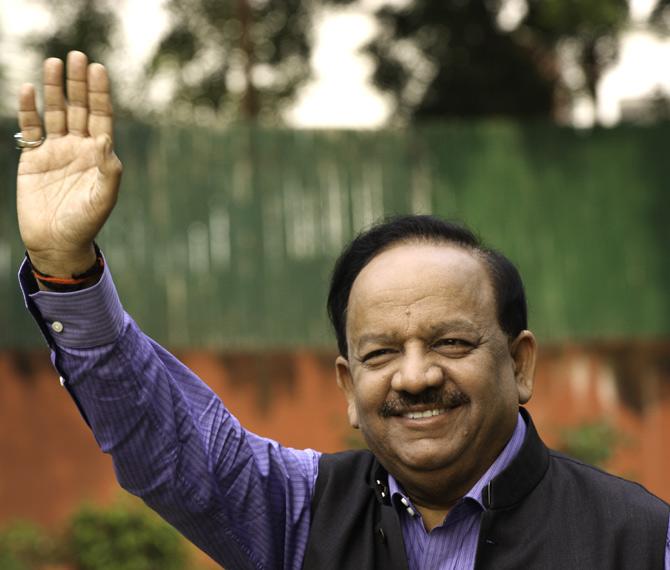 Upbeat over the party's spectacular victory in the Lok Sabha polls, Delhi Bharatiya Janata Party chief Harsh Vardhan said the party was ready for the assembly elections in the city 'anytime soon' and exuded confidence of getting a clear majority.
Vardhan, 59, made it amply clear that the BJP would not try to form a government in Delhi by resorting to any sort of 'manipulation' and would wait for the elections to get a 'clear mandate' to rule the city. "We are ready for fresh elections for the legislative assembly. I think election should be held at the earliest. I am confident that people of Delhi will give us a clear majority when polls are held," he said.
BJP recorded a landslide victory in Lok Sabha elections in the city emerging victorious in all seven seats with huge margins ranging from over 1 lakh to 2.6 lakh votes.
Complete Coverage: Elections 2014
Vardhan himself won from prestigious Chandni Chowk seat by a margin of over 1.35 lakh votes. Favouring early assembly elections, Vardhan said polls will have to be held within the next eight months as President's Rule cannot continue beyond one year.
Vardhan said his earlier stand of not forming the government due to lack of majority had not changed. "We will not try to form government through unfair means. Our earlier stand on not forming the government has not changed. We do not have the numbers and will not resort to any manipulation," he said.
Vardhan said any decision on holding the assembly polls in Delhi will have to be taken by the new government at the Centre. "We are battle ready. We are prepared for election even after one week. This time BJP will gain a decisive mandate," he said while attacking the Aam Aadmi Party for running away from the government.
Thanking people of Delhi for whole-heartedly supporting the BJP in the Lok Sabha polls, Vardhan said the AAP could not win a single seat as it was 'exposed' during its 49-day rule. "People rejected both AAP and Congress. They supported us as we have a positive agenda," he said.
Asked whether he will remain the party's chief ministerial candidate in case of fresh election, Vardhan said the party leadership would take the final decision. "The party leadership will take a decision on the issue," he noted. Senior Delhi BJP leaders said Vardhan's clean image has helped the party improve its vote share and give a tough fight to both the AAP and the Congress.