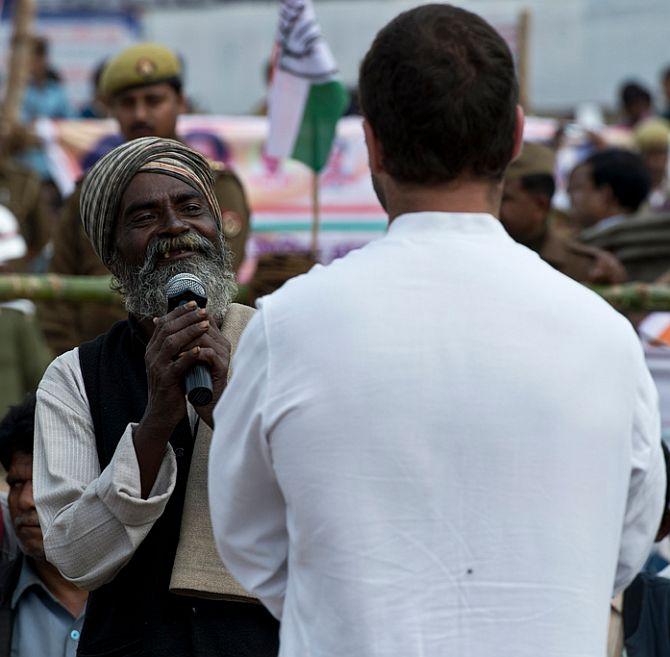 Wading into the Bharatiya Janata Party's internal affairs, Rahul Gandhi on Monday said that L K Advani was no more its "tallest leader" that he once used to be and has been made a "small leader" by the party, as he unleashed a fierce attack against Narendra Modi.
"..You may remember Advaniji who is BJP's tallest leader. He is no more the tallest leader that he once used to be. Now, BJP has made him a small leader," Gandhi said at a rally in Raichur in northern Karnataka.

The BJP veteran and the party's prime ministerial candidate have shared an uneasy relationship in the recent past.
The Congress vice president talked about Advani while referring to UPA government granting special status to backward Hyderabad-Karnataka region comprising six districts in north-east part of the state that would entail special economic benefits to it.
"... Advaniji who once used to be the tallest leader of that party had said if article 371(J) is passed country will get divided," Gandhi, said, adding, the UPA government did it.

He said Advani's view on passing article 371 (J) would disintegrate the country was "incorrect".

"He (Advani) said if 371J is passed, the country will disintegrate. We passed the 371J and the country was not divided. It benefited you, it gave you education, employment," Gandhi added.
Gandhi ridiculed the Gujarat model by raking up the "snoopgate" scandal with the barb targeted at Modi, who was in the eye of storm over a scandal involving the surveillance of a woman.

"CM's power in states like this (Karnataka) will be towards empowering poor, getting big projects implemented, but in Gujarat model CM's power will work towards putting police force behind women, their power will also get utilised in tapping women's phones... and these very people talk about women empowerment."
"On one side phone tapping, second side police are chasing women from behind, on the third side pornographic films are being watched and on the fourth side minister is involved in rape like incidents, and these people come with the posters of empowering women...."

"....these people can't empower you, as they don't even respect you," he said.
Gandhi also took potshots at Modi's chowkidar pitch, saying the country did not need one "chowkidar".

"BJP says give country a watchman (chowkidar), give one chowkidar, he will reform the country. We say make crores of people in the country its chowkidar, give them the power, give them the strength."

"The country doesn't want one chowkidar. If you give key of your house to one chowkidar, he may even loot your house easily. We want keys of your house to be in your pocket... let power rest in your hands and you run the country, our job is only to take your orders of what you want."

"We respect you and this is the difference between us (Congress) and them (BJP)," Gandhi said.

Noting that Congress runs a government that is of people from all regions, castes and languages, he said, "We don't want any one model, in Karnataka Congress has a good model, the model that works for the poor, downtrodden and that gives your money back to you."
"Our politics follows what you (people) say, we come to you to seek your suggestions on what to do, we don't have much knowledge...the knowledge is with you...the people, it is with these women here," he said.

At a rally at Sirsi in Uttara Kannada district, Gandhi attacked the previous BJP government on the issue of graft, saying it had created a record in corruption, with some ministers even landing in jail.