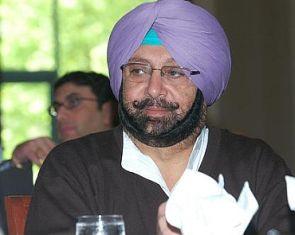 Congress candidate from Amritsar Amarinder Singh on Friday held Punjab Chief Minister Parkash Singh Badal allegedly accountable for Operation Bluestar. At a press conference, he said, "It was Parkash Singh Badal who during the troubled period had instigated the innocent youth to disturb the peaceful situation of Punjab and later he met the then home minister urging him to go ahead with Operation Blue Star."
He said, "Each and everything is on the record with the home ministry as Badal asked for Operation Blue Star and in such circumstances, how could he deny the facts? I asked Badal the same thing repeatedly but he is silent and not replying to my question," he said.
"The memorial should also be made in the memory of 3,500 innocent people who were killed during the disturbed time in Punjab, so that coming generation could know what happened here," he said.
Talking about honouring family members of killers of Indira Gandhi by the Shiromani Gurdwara Parbandhak Committee, Singh took a dig at Badal and said, "The SGPC is being run by the men of Badal. They do what Badal tells them. Otherwise, nobody would like to honour any killer in the society."
On the 1984 anti-Sikh riots in Delhi, he said, "It was unfortunate, but now it has become history. To move ahead, we have to keep these things aside."
On former Congress Member of Parliament Sukhdev Singh Libra, who left the party after denial of ticket, Singh says, "Libra was given ticket when he supported the Nuclear Treaty and Congress party made him an MP.
"Now, the party has decided that someone else will contest in place of Libra, so there is nothing wrong in it, since it was the decision of the party high command and Libra should have understood it."