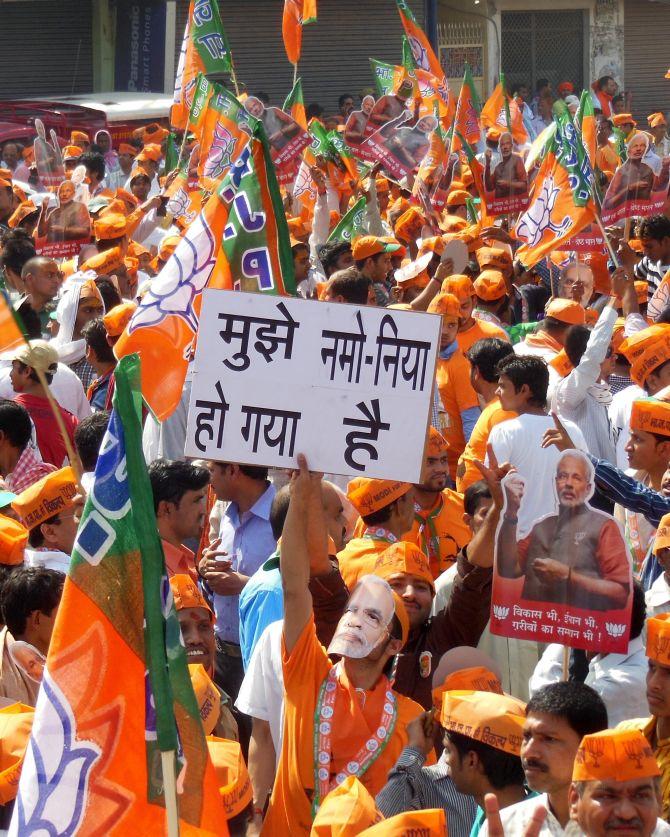 With polling in Varanasi underway, Narendra Modi on Mondy spoke about the 'Ganga-Jamuni tehzeeb' of the holy city and appealed to the voters there to reflect its spirit of unity and harmony through their votes.
Invoking 'Maa Ganga" in his video message, the Bharatiya Janata Party's prime ministerial candidate, who is contesting from Varanasi, said the aim should be to keep the rich tradition of the holy city alive.
"I appeal to people to cast their votes in the last phase of polls with the same zeal and enthusiasm they have shown so far. My brothers and sisters in Kashi, the honour of Kashi is in peace, harmony and unity.
"This is what we call Ganga-Jamuni tehzeeb. It should also be reflected in polling. We are all one. We should love each other and take everybody along," he said.
Hailing the "vibrancy" of Indian democracy, Modi said the western world should analyse the success of Indian democracy.
"The western world should also analyse Indian democracy, as to what is the reason why crores of people in this blistering heat are participating with such an enthusiasm in this elections," he said.
He said despite all the storm of "negative publicity" during the campaigning, people have shown enough wisdom to "tell right from the wrong".
He said though everyone has their likes and dislikes, they love their county and vote for its future and for the future of the youths. "...and we should all contribute to make the fortune of this country," he said.
Modi said the heavy deployment of security forces in large number would be a good sign for ensuring healthy, clean and peaceful elections in the last phase.
However, he felt that the issues in the states, which witnessed assembly elections simultaneously, remained confined to their borders.

Image: Supporters of BJP prime ministerial candidate Narendra Modi cheer for their leader in Varanasi

Photographs: Sumit Bhattacharya/Rediff.com