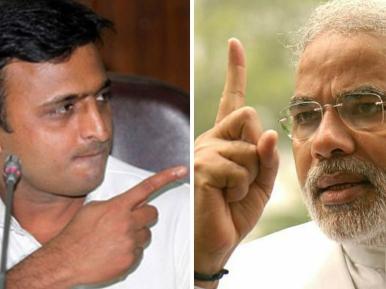 Uttar Pradesh Chief Minister Akhilesh Yadav's quest for lions from the Gir forest in Gujarat to develop a lion safari in the once dacoit-infested Chambal ravines in Etawah has provoked an interesting wordy duel between him and his Gujarat counterpart Narendra Modi. The two sworn political rivals have been literally roaring at each other each time there is a mention of the lions.
It began with Modi's remark at his first UP rally in Kanpur, where he said, "The UP chief minister wanted to set up a lion safari in Etawah for which he asked me for some lions to be sent from the Gir forest; we are giving the lions; but I really wish that Akhilesh had also asked for the Gir cow; we would have happily obliged to help them set up an Amul like dairy in UP."
The lions have arrived and are kept in the Lucknow zoo until the infrastructure is ready for Akhilesh's 300-acre dream project in Etawah.
Interestingly, when Akhilesh drove down to the Lucknow zoo to have a look at the "gift" from Gujarat , the pair of Gir lions roared -- prompting UP's wildlife officials to impress upon the chief minister that the roar was the 'forest king's' way of welcoming him. And it was incredible that the lions roared once again as the chief minister was leaving the place.
Meanwhile, during the course of another election rally in UP, Modi chose to take yet another dig at Akhilesh by observing, "I sent the lions from Gujarat in the hope that Akhilesh will get some strength from them; but alas! Tat has not happened."
Pat came the retort from the young UP CM, who said at a Samajwadi Party rally, "The lions from Gujarat will remain in cages being prepared by us."
In the same vein he added, "And you know where these cages were being made -- in the thick of Chambal ravines where we have earmarked a 300-acre area for them; sure enough the lions from Gujarat will remain confined to that corner of UP."
It is still awaited how Modi responds to that one, especially since he is desperately looking up to a sweep in UP, without which he may not be able to fulfill his prime ministerial aspirations.