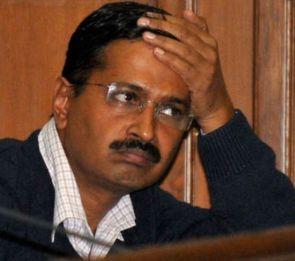 Sending out a strong message to party office bearers, the Aam Aadmi Party on Friday sacked two leaders from Uttar Pradesh for allegedly demanding money in exchange of party tickets.
Addressing a press conference at his Tilak Lane residence, AAP National Convener Arvind Kejriwal announced sacking of Avadh Zone convener Aruna Singh and Hardoi's treasurer Ashok Kumar for demanding money in lieu of giving party tickets for Lok Sabha elections.
"For the last few days we have received complaints that our party workers at the district level have been taking money in return of party ticket. We initially found it to be untrue."
"These two demanded money from prospective candidates in exchange of party tickets. We received complaints, following which we asked for evidence. When the party looked into the evidence, we found the allegations to be true," Kejriwal said.
"However, no kind of financial transaction occurred. Based on the evidence, we decided to sack the two," he said, adding that the party was investigating 3-4 more cases.
A party leader said one Rajesh Kumar from Sitapur had alleged that money was being taken in exchange of tickets, following which a sting was done by a news channel.
"Initially, a news channel reporter brought a voice record (sting) before our notice, it was not clear. So, we asked the TV reporter to get fresh evidence and verified it after which an action was taken against the two," said the leader.
Kejriwal asked the media and also the candidates looking for party tickets to conduct a sting operation if they found anyone demanding money.
"Whosoever does that, conduct a sting. We will verify it and the person will not be in the party for more than 24 hours after that," he said.
Kejriwal added that whenever such cases come up, the party looks for the voice and raw footage before arriving at any conclusion.
Image: AAP leader Arvind Kejriwal