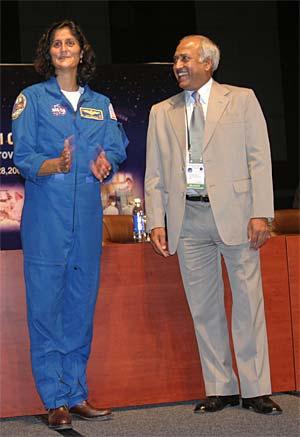 Since 1961, over 400 human beings have gone into space. On September 28, 2007, two of them met on Earth.
Astronaut Sunita Williams has set a slew of space records. She spent 195 days in space, the longest uninterrupted stay by a woman. Then, because of the tasks she carried out outside the International Space Station, she holds the record for the maximum duration of space walk by a woman (29 hours and 17 minutes). And she is the only astronaut to have run a marathon in space.
Cosmonaut Rakesh Sharma holds a different record. He is the first, and only, Indian to have gone to space; incidentally, he was also the 138th man to go into space. On April 2, 1984, he launched into space aboard Soyuz T-11 and spent eight days aboard Salyut 7.
When the two of them shook hands on the closing day of the 58th International Astronautical Congress, it was clearly a moment for the shutterbugs.
Incredibly, Williams, who is a member of the United States Armed Forces, and Sharma, who was a member of the Indian Armed Forces, were very clear that man-made borders lose their identity in space; all that mattered was the stunning beauty of a planet called Earth.

Reportage: Savera R Someshwar | Photograph: Reuben NV