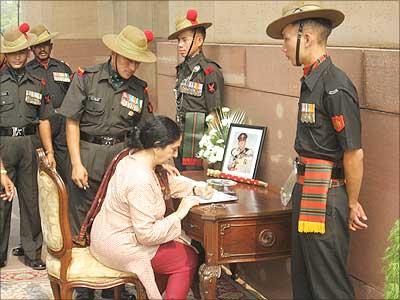 A condolence book for Field Marshal Sam Manekshaw kept at the Martyrs' Memorial in India Gate, New Delhi, will be open for two more days owing to tremendous public response, Defence Ministry officials said on Wednesday.
The government, which accorded Manekshaw a rare state funeral, said opening a condolence book for the public is also not an honour for everyone.
"This is also a rare gesture. We haven't had such a thing for anybody earlier," a spokesperson said.
The book, scheduled to be kept open for the public to register their condolence from June 30 to July 2, and will now be kept open till Friday.
"We are also trying to extend the time in the evening as more people come in during the end of the day," an army spokesperson said about the timing, which is now 9 am to 4 pm and might be extended till 4.30 pm for the two days.
Defence Minister A K Antony, who was criticised for missing the Field Marshal's funeral in Wellington, Tamil Nadu, was among the first to sign the book, in which he describes Manekshaw as 'the Marshal who led from the front'.
The chiefs of the three defence services -- Admiral Sureesh Mehta, who is also the Chairman of Chiefs of Staff, General Deepak Kapoor and Air Chief Marshal F H Major all of whom missed the funeral, were also among the first to register their condolence.
The book, placed along with a photograph of the Manekshaw and his baton, will be preserved and be displayed along with other property of the Field Marshal when an Army museum comes up, the spokesperson said.
Among other notable people who signed the book were those from the military attaché at the Russian embassy and the Bangladesh High Commissioner, who registered his condolence 'on behalf of the people and the government of Bangladesh'.
Text: Krishnakumar P 
Image: A visitor leaves her condolence message for Sam Manekshaw.