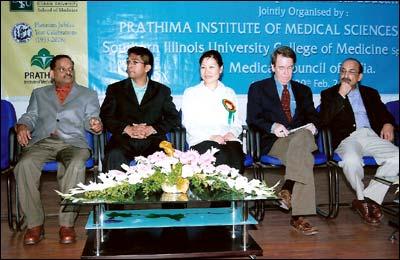 The Southern Illinois University School of Medicine in Springfield and the Prathima Institute of Medical Sciences, in Karimnagar, Andhra Pradesh, which was established at the initiative of a group of non-resident Indians, have signed a memorandum of understanding for fostering academic collaboration and improving rural healthcare.

The agreement allows for student and faculty exchange between the two institutions, as well as joint research and development for improving rural healthcare. Both institutions cater to predominantly rural communities in their respective countries.
It will also greatly benefit fourth and fifth year students from PIMS by allowing them to acquire valuable clinical and other skills at the SIU.
A team led by SIU School of Medicine Dean and Provost Dr J Kevin Dorsey visited PIMS recently to formalise the agreement.
The MoU was brought about through the efforts of Dr Jagan Ailinani, clinical professor of radiology in the SIU School of Medicine and a past president of the American Association of Physicians of Indian Origin. PIMS was founded under the initiative of the group headed by Dr Prabhakar Guniganti, chief of the cardiopulmonary department at Nacogdoches Memorial Hospital, Texas, and chair of the board of PIMS. Dr Ailinani, who hails from Karimnagar, is another founding board member of PIMS.
Signing the MoU was accompanied by a daylong workshop on medical education inaugurated by Indian Minister of State for Health and Family Welfare Panabaka Lakshmi. Dr A V Krishnam Raju, vice chancellor of the NTR University of Health Sciences, Dr Jayarama Guntupalli, professor of medicine/nephrology at the University of Texas, Houston, and Dr Debra Kalmen, associate dean of the SIU School of Medicine, were among the presenters. Senior medical students Pritish Patel and Nauren Ahmad presented their perspectives.
Dr Ailinani, who works for promoting rural development in Andhra Pradesh, said that for him the MoU was another landmark in improving the lives of Karimnagar residents. He said he has been instrumental in initiating several rural development projects in the region, including the establishment of a rural health clinic, provision of safe drinking water systems for villages, construction of sanitary facilities, conducting periodic medical camps, sustained measures to improve women's and children's health, improving schools, and funding infrastructure projects. He also has championed the cause of adopting villages by other physicians settled in the US.
Dr Guniganti said this is an agreement with tremendous impact for PIMS. It would allow students to acquire valuable clinical experience and gain a perspective on medicine as it is practiced in the US.
B Srinivas Rao, managing director of PIMS, said the MoU represents a logical progression in the growth of PIMS, which, he said, is dedicated to a high quality of education and service. The institution has been growing rapidly since it was established five years ago, he noted.
Image: A workshop on medical education at the Prathima Institute of Medical Sciences, in Karimnagar, Andhra Pradesh.