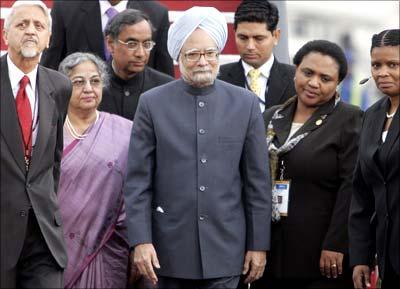 Prime Minister Manmohan Singh arrived with his wife Gursharan Kaur at the Johannesburg International Airport on Tuesday to attend the India, Brazil and South Africa summit in Pretoria.
South African President Thabo Mbeki will on Wednesday, in a historic first, host Dr Singh of India and Brazilian President Lula da Silva for the strategic trilateral India-Brazil-South Africa Summit at the presidential guesthouse in Pretoria.
This will be the first time South Africa hosts the IBSA Summit since its inception.
Photograph: Gianluigi Guercia/AFP/Getty Images