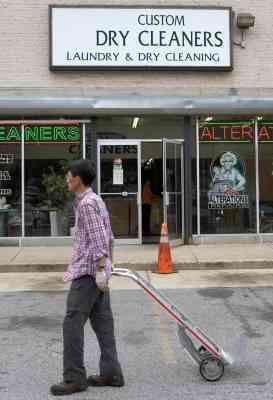 Given that he comes from a litigious nation, American judge Roy Pearson can perhaps be excused for believing that he will take his local drycleaners to the, well, cleaners over a pair of missing trousers.
All of us have lost a piece of attire to the vagaries of the neighbourhood dhobi and can empathise with the judge's anguish over losing a pair of dear trousers.
However, his legal suit – claiming damages of $ 54 million, no less -- didn't have the required effect and for his troubles Pearson may well end up paying the store owner's legal fees.
Obviously for Pearson, there was more than the normal attachment one feels towards a pair of trousers, for he broke down in court during his testimony when he recalled the episode.
His bitter experience with Custom Cleaners, in Washington, DC, goes back to 2002 when the Korean owners, the Chungs, apparently lost a pair of trousers. Pearson was compensated $ 150 for the loss, but was banned from the store.
However, according to the defense attorney, Pearson crawled back pleading that since he did not have a car and they were the only cleaners in the neighbourhood, there was nowhere else he could go.
In May 2005, unfortunately for Pearson and the Chungs, another pair of trousers went missing. The judge was about to begin a new job and wanted a nice outfit to wear to work. After trying out many, he settled on a pair of gray trousers with blue and red stripes on them – as per the court papers. He brought the pair in and they promptly went missing.
The dry cleaning bill for the same was $ 10.50, and Pearson demanded $ 1150 for a new suit. The Chungs refused, lawyers were hired preparatory to a lawsuit and the Chungs now offered  Pearson $ 3000 in compensation, and hiked it subsequently to $ 4600. The final figure they offered was $12,000 for the missing pair of trousers.
But Pearson refused to accept their offer.
Finally the matter went to court and Pearson, who throughout the trial kept referring to himself as 'we' – for which he was chided by the presiding judge -- behaved as if he was not an individual but a leader of thousands of locals who stand to lose through misleading and unfair business practices. In particular, his ire was directed at the 'satisfaction guaranteed' and 'same day service' signs put up at the store. The legal matter drew attention from all over American for its unusualness. Pearson even mentioned in his court papers that he would call 63 witnesses.
Pearson, citing District of Columbia's consumer protection laws, claimed $1,500 per violation – which was each day the 'satisfaction guaranteed' and 'same day service' signs were up. They had been so for more than 1,200 days.
Next he multiplied each violation by three because he sued three persons – owners Jin and Soo Chung and their son. To this figure he added $1 million for emotional damages, then some more for legal fees, finally taking his claim Pearson to $67 million. He later whittled this amount down to just $54 million.
Washington superior court judge Judith Bartnoff has now ruled that Pearson could not prove that Custom Cleaners actually lost his prized pants. She also said Pearson's claim for $54 million for losing his pants despite the 'satisfaction guaranteed' sign had no basis in law.
Bartnoff also ruled that Pearson must pay the Chungs' court costs, amounting to about $1,000, and that she would consider at a later date if Pearson should also pay their attorney's fees, which is the bulk of their legal fees. The Chungs say they have spent thousands of dollars in legal fees.
'It's not humorous, not funny and nobody would have thought something like this would have happened,' Soo Chung, who broke down in tears, told ABC News. 'I don't want to live here anymore. It's been so difficult. I just want to go back to Korea.'
The Rediff News Bureau | Photograph: Saul Loeb/AFP/Getty Images