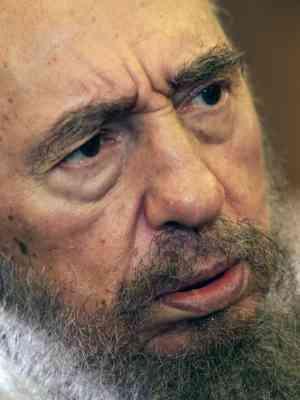 The good news, for his legion of fans and admirers at least, is that Fidel Castro is hale and hearty.
The bad news, at least for the West that is, is that he has recovered to a healthy 80 kg and has returned to solid foods.
In a written statement from his hospital bed, Castro, arguably the world's most popular dictator, however said he will not be rushing out to be photographed in his present condition. 'Right now I have no time for films and photographs that require me to constantly trim my hair, beard, moustache and primp myself up everyday,' he said.
It's the first time that Castro has elaborated on his health problems that forced him to hand over power to brother Raul last year, setting off speculation if he was nearing the end. His previous statements were noted more for their vagueness about his health. Video and still images from his hospitalisation days showed a frail Castro in pajamas or tracksuit, serving to further heat up speculation about him.
About his intestinal surgery last year that is generally assumed to have gone wrong, Castro said, 'It was not just one operation but several. Initially, there was no success and that led to my prolonged recuperation. 'For many months, I depended on intravenous lines and catheters through which I received an important part of my food. Today, I receive by mouth everything I need for my recovery.'
Known for being garrulous, Castro's latest statement however said nothing about his discharge from hospital, or when, if at all, he would take back power from his brother.
'I try to keep my reflections brief so as not to rob space from the written press and television news bulletins. The rest of the time I spend reading, receiving information, talking by telephone with numerous friends, and carrying out the relevant rehabilitation exercises.
Photograph: AFP/Getty Images