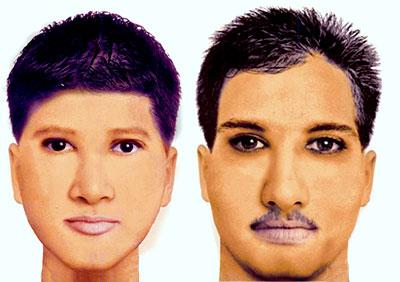 Making their first significant breakthrough the Gorakhpur police on Thursday evening released computer-drawn sketches of two persons suspected to be behind Tuesday's serial blast in Gorakhpur town in eastern Uttar Pradesh.
"The sketches were drawn on the basis of feedback given by shop-owners from where the suspects purchased the three bicycles, used for planting the low intensity bombs at different spots in the heart of this town on Tuesday," district police chief R K Rai told reporters in Gorakhpur, about 230 km from Lucknow.
The bicycles were purchased from two different shops in Reti Chowk area, about 3 km from the blast site in Golghar , the heart of the town.
Releasing the pictures, he said, "We have sufficient details about the two customers who bought the three bicycles used for carrying out the blasts."
Rai is hopeful of zeroing in on the suspects once their sketches were publicised. "If the culprits belong to anywhere in or around Gorakhpur, I am sure it would become easier to track them down."
Tuesday's triple blast had left six injured. While four of them had been discharged from the hospital, two were still undergoing treatment even as they were declared "safe" and "out of danger."