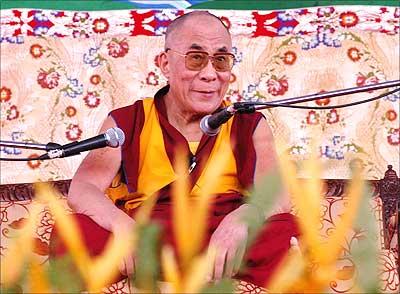 Infants in arms, doddering old men and women. CEOs, students, socialites and devotees. Tibetans, Americans, British, Germans, Swiss, and even a couple from far-flung Bulgaria.
Some 3,000 people braved a humid Mumbai afternoon on Wednesday to congregate at the Bandra Kurla complex and listen to the Tibetan Spiritual leader, His Holiness the Dalai Lama, speak on 'Peace Through Inner Peace.'
Many sat with their hands folded in prayer throughout the session, some had tears of joy in their eyes.
Organised by the Foundation for the Preservation of the Mahayana Tradition, this was billed as the Dalai Lama's first public discourse in the city.
In his trademark maroon robes, his Holiness kept the audience mesmerised for over two hours with his easygoing grace despite a bad audio system and the bawling of several infants who did not know what the fuss was all about.
"Peace," he declared, "is not just the absence of violence".
"Peace comes from within. It is only when we have true peace of mind that we can look for peace externally. The main destroyer of peace of mind is not external but the internal enemies," he declared.
Noting that 'certain friends' had suggested that he not discuss secularism, because it was a loaded word, the Tibetan leader said that secularism meant respect for all religions, and secular ethics. "Certain ethics have universal values, irrespective of whether we are believers or non-believers," he said. 
India, he said, had a rich and ancient history of multi-religious, multicultural harmony, despite some bad blood and violence now and then.
But since it was impossible to teach or practice all religions at the same time, "secular ethics through education was the only choice," he said. Such ethics are not based on religious beliefs, but on universal truths.
In response to a question, he said that India's education system 'is not completely satisfactory.' In fact, "the modern education system is linked to external things, not internal values," he said. 
But while modernity had brought about drastic changes in external things, inner things, emotions, have not changed over the past 5,000 years, he argued. What was true thousands of years ago is still true today.
Asked about the Beijing Lhasa railway link, his Holiness said that it was more important to see what that link was being used for, and to examine the environmental costs.
Since the rail link became operational, some 5,000 people come to Lhasa from mainland China every day, he said. Of these, two thousand do not return. Unfortunately, most of them, barring a few officials, are job seekers, unskilled, uneducated, people who found it difficult to get jobs in China.
Many were handicapped, lured by the traditional Tibetan generosity. The number of prostitutes in Lhasa was increasing, and there were fears of an AIDS epidemic in the Himayalan kingdom now ruled by China, he said.
And finally, asked how one curbs anger, he said anger had no antidote. "Patience, tolerance, even apathy is not good enough. The only way to check it was to `study more, think more."
"Though I did not understand much of what he said," declared Ursula, a tourist from Holland, "Just seeing him in person was enough. We need more people like him."
Text: Ramananda Sengupta | Photograph: Arun Patil