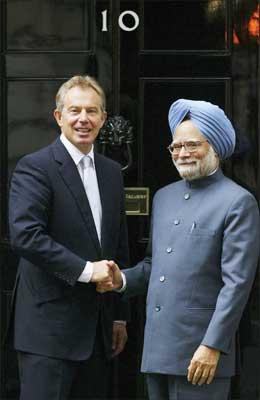 Number 10, Downing Street in London had an Indian visitor. Prime Minister Dr Manmohan Singh met his British counterpart  Tony Blair in his office.
Singh is on a six-day visit to England and Finland including a two-day India-European Union summit on October 13.
Blair and Singh focussed on joint action to tackle terrorism, following attacks on transport networks in London and Mumbai. They  were also expected discuss security, bilateral trade and the international response to North Korea's staging of a nuclear test.
Britain is the third largest investor in India, while India is the third largest investor in Britain and the spokesman of British Prime Minister's office said  talks will also aim at boosting trade and investment between the two countries.
On Wednesday, Singh will receive an honorary degree from the University of Cambridge, where he studied during the 1950s.