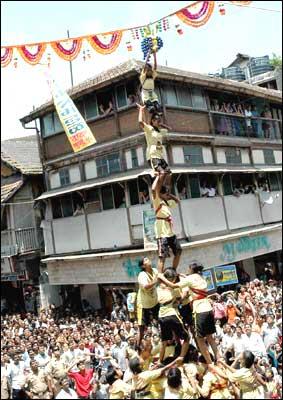 Various devotional programmes and matki phod functions were held across India to celebrate Janmashtami on August 27, 2005.
Lord Krishna temples were decorated and portraits depicting the life of the Lord were put up at various places. 
A fast was observed by the devout till midnight when, according to mythology, the reincarnation of Lord Vishnu was born to Devaki in a dungeon in Braja. Devaki and her husband Vasudeva were kept in confinement by Kansa as it was predicted that their eigth-born would slay the evil king.
Groups of youths shouting "Govinda Ala Re" went about Mumbai forming human pyramids to get to the dahi handis (mud pots with curd and money) on Gokulashtami. Throwing gulal in the air, the participants competed with each other to get the jackpot, braving bucketsful of water thrown at them.
In the picture, a team of women climb in a six-step pyramid to break a handi in Dadar, Mumbai.
Photograph: SM/ Saab Pictures