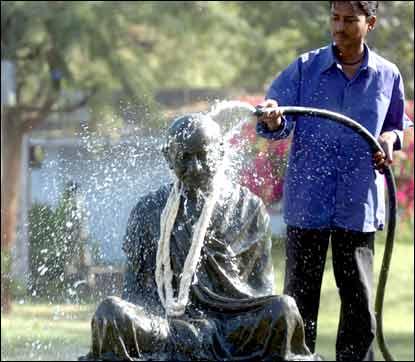 Congress president Sonia Gandhi will flag off the party's re-enactment of the Dandi March on Saturday to mark the 75th anniversary of Mahatma Gandhi's historic salt satyagraha.
Briefing reporters on the eve of the programme, Congress leader Sunil Dutt said on Friday that Prime Minister Manmohan Singh and Sonia Gandhi are likely to be present at Dandi in South Gujarat when the 23-day walk will conclude on April 6.
Before flagging off the march, Sonia Gandhi would visit Hriday Kunj at Sabarmati Ashram established by Mahatma Gandhi.
More than 300 people from different parts of India and abroad would participate in the march, Dutt said. They would retrace the steps Mahatma Gandhi took and travel more than 240 miles.
Dutt denied allegations that the march had political motives. He said it was meant to create peace, amity and goodwill among people.
He said it would be his endeavour to see that the path Mahatma Gandhi travelled during the Dandi March was made a heritage path.
The Father of the Nation had undertaken the march to protest against the imposition of salt tax on farmers by the British Government.
A worker cleans a statue of Mahatma Gandhi at the Sabarmathi Ashram in Ahmedabad in Gujarat on Friday.  
Photograph: RAVEENDRAN/AFP/Getty Images