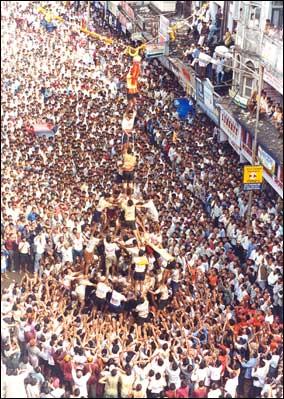 It's that time of the year when youngsters look up to the sky and pray for good fortune, in the form of a fully-laden
dahi handi.
It is the birthday of Lord Krishna, people's favourite god, which is celebrated as
Janmashtami, Krishnashtami
or
Gokulashtami
As a child, Krishna was very mischievous. He loved dahi and used to eat all he could get his hands on. Hence, his mother used to keep the dahi handi beyond his reach.
But Krishna used to take the help of his friends and get to the handi. Youngsters replicate this endearing act on his birthday, which occurs on the eight day (ashtami) of the lunar fortnight.
The festival is celebrated over two days, the first day is Krishnastami and the second day is called Kalashtami. It is on the second day that the popular ceremony of dahi-handi takes place.
During this ceremony, a large handi filled with milk, curds, butter, honey fruits etc is suspended from a height of about 20-40 feet; it can go higher. Youngsters form a human pyramid by standing over each other's shoulders till it is tall enough to enable the person on top to reach the handi and claim the contents.
Often, currency notes are tied to the rope by which the handi is suspended. This prize money is distributed among those who participate in the pyramid building exercise.
Over the years, the dahi handi ceremony has been turned into an opportunity for influential people to display their money power. Many political parties announce huge prize money for breaking the handi. It ranges from anything between Rs 25, 000 and Rs 100,000. The amount goes up with each year.
No wonder than, over the years, the youngsters too have added a touch of professionalism practicing for the day much in advance. Some of them even have sponsors.
In cities like Mumbai, there is talk that the festival is being commercialised. Yet the fervour is not lost. Each year, balconies are packed with people waiting to see various groups have a go at the handi.
Get ready for the real show. Tuesday is the day.
Photograph: Satish Bate