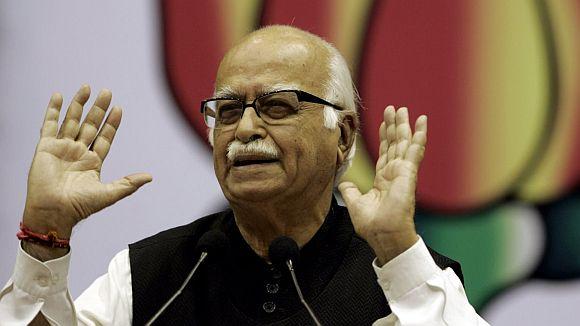 Bharatiya Janata Party patriarch L K Advani will sit in his old room in Parliament House with the Government on Tuesday restoring it to the veteran leader, days after indications of his possible dislocation from there.
The name plate of the 86-year-old leader was restored outside room number 4 in Parliament House, albeit without his earlier designation of Working Chairman of the National Democratic Alliance.
Advani also sat in his original room on Tuesday for some time and his staff occupied their seats too. The development came after Parliamentary Affairs Minister M Venkaiah Naidu intervened in the matter and ensured there was enough room for the party leader, who appeared visibly upset last week following the 'removal' of his name plate.
Advani had, in an apparent display of his displeasure, occupied the eighth row in the Lok Sabha during the oath-taking ceremony of members of Parliament last week and chose to take rest in the BJP Parliamentary Party office which is generally used by ordinary party leaders even though he continues to be the chairman of BJP Parliamentary Party.
There is no clarity on his continuing as NDA working chairman, even though he continues to be chairman of the BJP Parliamentary Party. Naidu along with his deputy Santosh Gangwar came up to the room in the morning and gave directions to the staff that Advani will continue to occupy the same room as he did earlier.
The former deputy prime minister was deprived of a room in Parliament House which he occupied for the last 10 years as NDA working chairman after his name plate outside his room was 'missing' though that of NDA Chairman Atal Behari Vajpayee was intact outside the same room. With Vajpayee being away from the scene because of his ill health, Advani used to occupy the room.