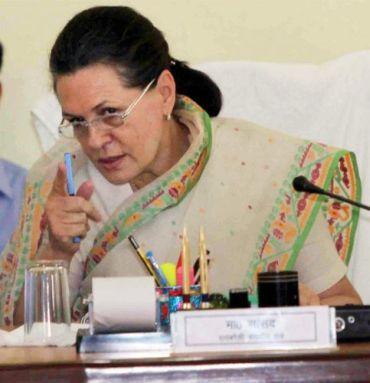 Gearing up for the 2014 general elections, Congress President Sonia Gandhi on Friday told partymen that unity should be their watchword as the party had floundered many an opportunity for want of discipline.
Addressing the 'chintan shivir' (brainstorming session) in Jaipur, Gandhi cautioned partymen of increased competition for Congress' political space among the people and noted that several inroads had been made in the party's traditional support bases.
"Is it not the case that we have floundered many opportunities that people are willing to give us simply because we have been unable to function as a disciplined and united team," she asked at the two-day party conclave held at the Birla Auditorium in Jaipur.
The conclave will be followed by a session of the All India Congress Committee on Sunday.
Among the leaders present on the dais included Prime Minister Manmohan Singh, Defence Minister A K Antony, Rahul Gandhi, Motilal Vora and Ambika Soni.
Gandhi asked the party leaders to set aside personal ambitions and egos to work cohesively and ensure that the party puts up a better performance, particularly in states where it is out of power.
"Why do we forget the simple truth that in the party's victory lies the victory of each and every one of us," she asked.
Gandhi said there was a need to strike a fine balance when it comes to dealing with alliance partners while ensuring that the party's rejuvenation was not compromised.
Gandhi said it was time for introspection and that there was a need to look at the party's strengths and weaknesses.
She said the Congress was the only pan-India party with presence in every state, district and block-level.
Gandhi said the last nine years of United Progressive Alliance rule was a period of tremendous economic growth, social change and technological innovation.
She said the people were now better informed and equipped than ever before and their expectation of the people from the government had also grown.
"Our people are fed up with the corruption that they face. We must understand this," Gandhi said.
"We cannot allow growing educated middle classes to be alienated from the political process," she said Gandhi.
She urged party leaders and workers to "seriously" debate issues facing the nation.
In an apparent reference to the killing of two soldiers on the Line of Control, Gandhi said dialogue with neighbours must be based on accepted principles of civilised behaviour.
"Better and closer relations with our immediate neighbours will not only make for regional peace -- they will also have a positive impact on some of our own border states," she said.
"However, let us be clear. Our dialogue must be based on accepted principles of civilised behaviour. We will never compromise on our vigil and preparedness to deal with terrorism and threats on our borders," Gandhi said
The Congress president noted that women's security was on top of the party's agenda, and added the issue must be discussed at length.
The party is also concerned about the poor and backward classes, Gandhi said and added that inclusive growth was not a party ploy but a conviction.
She also asked partymen to be austere.
"Lavish weddings will lead to questions on where money came from," Gandhi said.