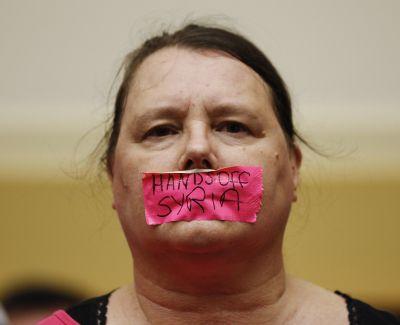 Influential world leaders on Thursday braced for a showdown at the G20 summit over an imminent US-led action against Syria, as United States President Barack Obama's plan to launch military strikes cleared the first hurdle with a key Senate committee narrowly approving it.
Tensions were evident even before Obama's arrival in St Petersburg to lobby world leaders to support for a planned military strike against Syria as the Pentagon had to clarify Secretary of Defense Chuck Hagel's assertion that Russia provided chemical weapons to Syria.
Also, Russian President Vladimir Putin accused Secretary of State John Kerry of lying about al-Qaeda's links to Syrian rebels.
Obama is among the leaders who have now arrived at the G20, along with British Prime Minister David Cameron, Chinese President Xi Jinping and Prime Minister Manmohan Singh.
While Syria is not officially on the G20 agenda, leaders were expected to discuss it on the sidelines. The annual summit of the G20 group of developed and developing nations is supposed to concentrate on the global economy.
The US has alleged that the nerve agent sarin was used by the Bashar al-Assad regime on August 21 and that at least 1,429 people were killed, including over 400 children, a charge denied by the Syrian government.
All five permanent members of the United Nations Security Council -- the US, Great Britain, France, China and Russia -- are attending the summit.
Putin has already warned that action without UN approval would be "an aggression". But Obama has said the credibility of the international community was on the line after Syria's use of chemical weapons which he described as "barbaric".
In a bid to help UN chief Ban Ki-moon's efforts to hasten a peace conference aimed at ending the conflict, UN-Arab League envoy on Syria Lakhdar Brahimi will attend the G20 summit.
"The Secretary General has just announced that the joint special representative for Syria, Lakhdar Brahimi, is on his way to Russia to help him push, on margins of the G20 summit in Saint Petersburg, for the International Conference on Syria," the UN spokesperson said in a statement.
Meanwhile, the Senate Foreign Relations Committee, after more than 6 hours of deliberations spread over two days, voted 10-7 last night to approve the authorisation resolution for military action against the Assad regime.
The war resolution allows US a time frame of 60 days to achieve its objective to degrade chemical weapons capabilities of the Assad regime but prevents the use of troops on ground.
The full Senate is now expected to debate the measure and vote early next week.
Image: A protester wears tape over her mouth to protest against the use of military strikes by the US on Syria
Photograph: Jason Reed/Reuters