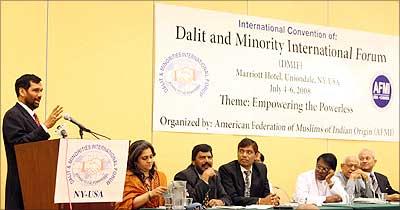 While many communities held cultural annual conventions over the Independence Day weekend, in New York, leaders of over a dozen minority communities met at the Dalit and Minority Convention and offered a reminder to the upper castes, said Ali Quraishi, one of the organisers. It was a simple message but a reminder of an overlooked fact, he said. "Put together all the minorities in the country and you will find more than 50 percent of the population is represented."
"Once again," Quraishi, an Albuquerque, New Mexico-based businessman, added, "we were sending a message to the (Indian) government at the Centre and in the states that there cannot be really a progress in the country until the minorities' welfare is addressed. We don't want handouts. We don't want politicians to think of us only at the time of the elections. We want meaningful and effective policies to defend the minorities and make them realise their full potential."
The idea to bring the minority communities on one platform was developed about three years ago at Union Steel Minister Ram Vilas Paswan's New Delhi home, Quraishi said, adding that it was followed by a convention in which minorities from 120 countries participated.
"We have been aware for quite some time that if the minority communities had good understanding and stood up against the divisive forces of the upper castes, there could be a lot of progress in the country," said Quraishi, whose organisation, the American Federation of Muslims of Indian Origin, coordinated the New York convention.
"There would be no communal riots," added Quraishi, who is also the president of AFMI. "In Gujarat, Muslims and Dalits have lived side by side for decades but when the 2002 riots took place, many Dalits took up arms against us. But if they were aware that the upper caste people were poisoning their minds and using them to fight against us, there would not have been violence and bloodshed."
Dalits and other minorities  can  also  learn  from  each other how to empower the seemingly powerless, he added, echoing the thoughts of Dr A R Nadkar, the co-chairman of the convention. Over 300 people including 150 activists led by Paswan attended the convention, he said. The delegates came from half a dozen faiths. The convention honoured Indian civil rights activist Teesta Setalvad and journalist Tarun Tejpal for their courage to highlight the violation of minority rights.
AFMI has been running schools in many parts of India, educating Muslim children for over two decades, he said. "But we keep our doors open to all," he pointed out.
Many of the schools are run by non-resident Indians, he said. He has founded two schools in Maharashtra. "It is endeavours such as these that can be shared and seen as an inspiration to other minorities."
If minorities can live and work without being pitted against one another or if their lives are not threatened by communal problems, they can chart their progress even if the government does not step up to help them, Quraishi mused.
One resolution passed at the event said a steady flow of bank credit and participation in the distribution of the fruits of social and economic developments can help the nation keep its tryst with destiny and become a leading nation of the world.
The convention also demanded that the government, which is a party to the Geneva Convention, should immediately enact a law to control anti-minority violence — and to amend the Constitution, if necessary.
The convention's organisers say they know how difficult it is to get such a law passed but unless concerted efforts are made no progress could be made on it.
The genocide legislation should be used to 'ensure effective intervention by the central government if social violence is prolonged and results in massive loss of life, honour and property,' it said.
When minority communities are attacked, there is no urgency to investigate the crimes and prosecute the alleged riot leaders, convention delegates felt. There should be 'prosecution by special court within a month of cessation of violence,' the resolution added. 
Image: Union Steel Minister Ram Vilas Paswan at the opening session of the Dalit and Minority International Forum in New York.
Photograph: Mohameed Jaffer/SnapsIndia