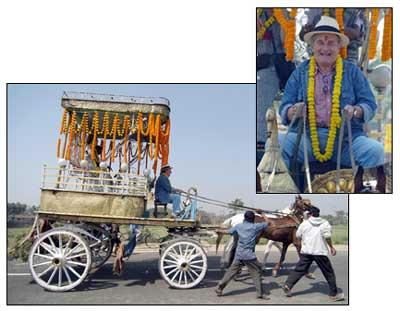 Author Dominique Lapierre drove a horse carriage to Parbakshi in Howrah district, 50 km southeast from the City of Joy, he made so famous in his novel. He was accompanied by his wife, also named Dominique.
Lapierre, who confesses to be deeply in love with India and is frequently seen in these parts, was on his way to a open a library and a computer education centre for underprivileged villagers at the Bodhoday Vidya Mandir School at Parbakshi on February 15. He inaugurated the school last year.
Dominique Lapierre's Indian connection
Lapierre has donated royalties from his best-selling novel City of Joy -- which director Roland Joffe made into a film starring Om Puri, Patrick Swazye, Shabhana Azmi and Ayesha Dharker (her movie debut). He also wants to improve health care in the remote Sandeshkhali, Patharpratima, Mathurapur areas in the Sunderbans mangrove forests and towards schools for destitute children all over West Bengal.
The Lapierres have been working in West Bengal for 25 years funding treatment for leprosy, cholera, tuberculosis, tubewells for villages and homes for the destitute. They have set up four hospital boats to provide medical care to 54 remote islands of the Ganga delta.
Photograph: Deshkalyan Chowdhury/AFP/Getty Images