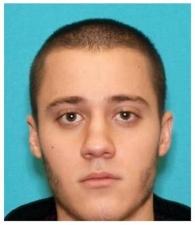 Paul Ciancia, the suspect in the shooting rampage at Los Angeles International Airport on Friday, has been charged with murder.
Ciancia, 23, shot a Transportation Security Administration officer, Gerardo I. Hernandez, at point-blank range.
After leaving the scene, he returned to shoot him again after Hernandez was seen moving on a surveillance video.
According to CBS News, Hernandez later died.
Ciancia also is accused of shooting two other TSA employees and a civilian, and causing other injuries.
A federal affidavit outlining the charges against him said that Ciancia wrote in a signed note he carried with him to the airport that he targeted TSA officials and 'made the conscious decision to try to kill' because he wanted to 'instill fear in your traitorous minds'.
Ciancia was charged with murder of a federal officer and commission of violence at an international airport, both potentially punishable by life in prison or the death penalty.
In addition to the note and eyewitness accounts, investigators have surveillance video of the shootings.
Investigators have not been able to speak directly with Ciancia because of the wounds he suffered as he was subdued.
Image: Paul Ciancia ' Photograph: Reuters