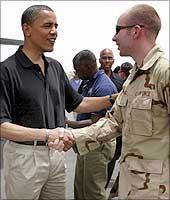 Kuwait has thwarted a terror attack against United States military base with the arrest of six suspected militants linked to the Al-Qaeda who allegedly planned to attack during the month of Ramadan, the authorities said.
"State security has uncovered a terrorist network of six citizens connected with Al-Qaeda who planned to bomb Camp Arifjan, the state security building and other important facilities," the Interior Ministry said in a statement on Monday.
According to a Kuwait Times report, Kuwait security authorities received information from Bahraini authorities about a terrorist cell in Kuwait working with another sleeper cell in Bahrain.
A day prior to the announcement from the Interior Ministry, the US Embassy in Kuwait issued a Warden's Notice updating "on the continuing threat of terrorist actions and violence against American citizens and interests throughout the world."
The suspects confessed to planning an attack on the Arifjan base, which lies south of the Kuwaiti capital close to the Saudi border, the ministry said. The attack was planned to be carried out during the Muslim holy month of Ramadan, which starts on around August 20.
Kuwait has seen little extremist activity recently but had problems with terrorism in the past.
In January 2005, Kuwait security forces clashed with Al-Qaeda linked militants in a shootout and then a few days later during a raid on a militant hideout.
The militants were allegedly plotting to blow up an apartment tower where many Americans live as well as other US and Kuwaiti government offices and bases, the report said.
In 2007, four members of the Peninsula Lion's Brigade involved in the clashes were sentenced to death by a Kuwaiti court. The sentences were later commuted.
The newspaper quotes analysts as arguing that the arrests do not indicate a rise of extremism in Kuwait.
"I think this is an isolated incident," said Gen Sabr Al-Suwaidan (rt), a Kuwaiti military analyst. "Those people are not looking for mass destruction but a kind of propaganda. If you go blow yourself up at the gate of Camp Arifjan. All the media will react but there won't be many casualties, maybe a few people killed," Gen Al-Suwaidan told the newspaper.
Image: Barack Obama shakes hands with a serviceman at Camp Arifjan in Kuwait during his tour of the Middle East in July, 2008
Photograph: Reuters