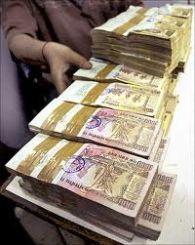 Sudipto Sen, chairman of the Saradha chit fund company, which has allegedly defrauded thousands of depositors, was arrested along with two other company officials in KashmirValley.
The three, initially detained at Sonamarg by the Jammu and Kashmir Police and later arrested, were identified as Sen, Debani Mukherjee, a director, and Arvind Singh Chouhan, who looked after the company's operations in Jharkhand.
"We have arrested them," IGP (Kashmir) Abdul Gani Mir said in Srinagar.
They will be produced in court tomorrow and taken to Kolkata on transit remand.
A Scorpio vehicle with a West Bengal registration in which they were travelling was seized.
Lakhs of investors of the chit fund group have hit the roads alleging they have been duped of over Rs 30,000 crore. Hundreds of agents of the company have also been rendered jobless.

In Kolkata, Bidhannagar Police Commissioner Rajeev Kumar told reporters "a police team from West Bengal verified the identities of the three and they were arrested."
West Bengal Chief Minister Mamata Banerjee, who had earlier ordered Sen's arrest and indicated he was somewhere in North India, confirmed the arrest.
"Their identities have been confirmed and the entire credit for the arrest goes to the police," she said.
Police sources said the three had set out from the SaltLake residence of Sen in Kolkata on April 12 in the Scorpio.
They first drove to Ranchi and then through different states before reaching Sonamarg within the last two days, the sources said.
Since their vehicle bore West Bengal registration they were detained on suspicion by the Jammu and Kashmir Police and the West Bengal Police were informed, they said.
The three had been lodged in Ganderbal Police Lines, SP (Ganderbal) Shahid Mehraj said.
The West Bengal government has announced formation of a Special Investigation Team and a high-level inquiry into chit fund companies after the collapse of the Saradha group.
The buble burst after capital market regulator SEBI started cracking the whip on chit fund companies for flouting rules triggering pressure on the group's finances.