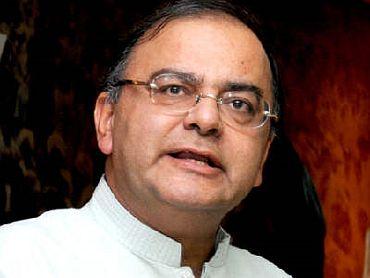 Bharatiya Janata Party leader Arun Jaitley was on Sunday detained as he arrived at the airport here on his way to communal violence-hit Kishtwar, which was made out of bounds for political leaders by the Jammu and Kashmir government.
BJP Rajya Sabha Member of Parliament from Punjab Avinash Rai Khanna, who was
to accompany Jaitley to Kishtwar, was also detained by the police while he was trying to enter Kathua on Sunday morning, while Peoples Democratic Party leader Mehbooba Mufti claimed she was prevented from leaving her house in Sringar for a visit to the violence affected district in Jammu region.
Led by J-K BJP president Jugal Kishore, BJP workers, who had come to receive Jaitley at the Jammu airport, held a protest against his detention. "Jaitley has been detained at Jammu airport soon after his arrival from New Delhi," Divisional Commissioner Jammu, Shantmanu, told PTI. "He will not be allowed to visit Kishtwar in view of the sensitive situation and we are pleading him from return," the officer said.
Curfew has been clamped in Kishtwar, 226 kms from here, and adjoining disticts in Jammu region after Friday's communal violence left two persons dead and scores of others injured.
Khanna was detained while he was trying to enter Kathua district along with his supporters in Lakhanpur belt on Sunday morning, the official said adding he was urged to return in view of the prevailing situation in Jammu and Kashmir. Jaitley along with Khanna and state BJP President Jugal Kishore was due to visit Kishtwar area of Jammu for an on the spot assessment of the sitution.
Kishore along with over 30 state leaders and activists shouted anti-government slogans while protesting Jaitley's detention. PDP leader Mehbooba Mufti said, "a police team has been deployed outside the main gate of my residence and we are not being allowed to leave the premises."