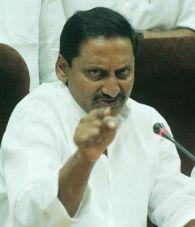 Raising the pitch of his attack on Centre, Andhra Pradesh Chief Minister N Kiran Kumar Reddy today challenged it to place the AP Reorganisation Bill 2013 in Parliament in the same form it was referred to the state Legislature.
"I challenge them to put the same Bill, which they referred to us, in Parliament. If it is accepted, I will get away from politics," Kiran Kumar challenged.
In an informal talk with reporters this afternoon, the chief minister noted that the Bill in its present form would not even be admitted in Parliament.
He alleged that the Central government "deceived" the President by sending an in-comprehensive Bill to him.
"The President doesn't scrutinise the Bill. It's the Ministry of Home Affairs and the Law Ministry that scrutinise the Bill," he said in reply to a question.
Kiran justified his request to the President to give three more weeks time for the state Legislature to discuss the Bill and express its views.
"Is it justified to return the Bill when only 86 out of 280 MLAs spoke and expressed their views," he asked.