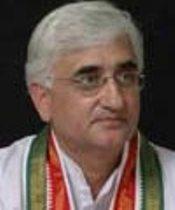 India on Tuesday demanded punishment for those responsible for the barbaric killing of two Indian soldiers by Pakistanis along the Line of Control, insisting that it was "extremely determined and serious" on this and that ties would not remain unaffected.
Shortly after the Prime Minister Manmohan Singh's tough comments that "those responsible for this crime will have to be brought to book" and hoped "Pakistan realises this", External Affairs Minister Salman Khurshid read out an official statement, threatening that it should not be felt that "brazen denial" by Pakistan on this incident will be ignored and that bilateral relations could be unaffected.
"I think specifics of what might be necessary or found resources are decisions that will be taken as we move forward. At present, we feel that it is important that convergence of similar point of view on behalf of the government reflects the large section of our public opinion...
"Let it be known to everyone here and across the border that we are extremely determined and serious in this concern of ours and we have resorted to all such instruments and all such methods that are available to us at this time," Khurshid said when asked about what tangibles were India looking at from Pakistan.
"It should not be felt that the brazen denial and the lack of a proper response from the government of Pakistan to our repeated demarches on this incident will be ignored and that bilateral relations could be unaffected or that there will be business as usual. Such actions by the Pakistan army, which are in contravention of all norms of international conduct, not only constitute a grave provocation but lead us to draw appropriate conclusions about Pakistan's seriousness in pursuing normalisation of relations with India," the statement said.
The statement also said the recent incident of the killing of two Indian soldiers in Mendhar sector of Jammu region and the barbaric mutilation of their bodies has been condemned in the strongest possible terms.
The government has deplored "this grave provocation and repugnant act" of the Pakistan army and called on the government of Pakistan to carry out a proper investigation of this "unacceptable" action and ensure that this does not recur, it added.
"This was immediately conveyed by our director general military operations to his Pakistani counterpart after this incident and reiterated during the brigadier-level flag meeting held at Chakan da Bagh," the minister said.
The foreign secretary had summoned the Pakistan High Commissioner on January 9, a day after this heinous incident and lodged a strong protest against the actions of the Pakistan army.