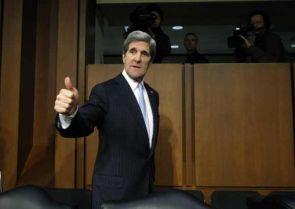 United States Secretary of State John Kerry would not meet representatives of the Afghan Taliban during his visit to Qatar later this week, his spokesperson said Thursday.
"Secretary Kerry would not be meeting Taliban representatives," State Department spokesperson Jen Psaki told reporters at her daily news conference.
Kerry is scheduled to be in Doha from June 21-23 to hold bilateral talks with the Qatari rulers, during which the Afghanistan reconciliation talk, situation in Syria and the Middle East Peace process is expected to be among the top priorities.
Psaki said the US is hoping that the peace talks with the Taliban would take place soon. She, however, did not confirm media reports that the talks have been scheduled for Monday.
"We don't have a confirmed time. But we're keeping some options open for his travel and what time works on both sides," she said.
The talks were initially scheduled today, but were pulled off after Afghan President Hamid Karzai expressed his outrage over the statement issued by the Taliban.
"We were disappointed by how the office was opened. The secretary was in close touch with President Karzai and with other officials about this. There were steps that were taken, including taking down the banner and the sign, yesterday that were positive steps.
We remain focused on moving towards negotiations because we feel it's the best path to a political solution and a political reconciliation here," she said.
Psaki said there are broad ranges of issues that the US will raise in its discussions with the Taliban.
"The main dialogue we want to support is among the Afghans. However, there are some issues, of course, we'll discuss. We'll talk with the Taliban about the safe return of Sergeant Bergdahl.
He's been gone far too long. We continue to call for and work towards his safe and immediate release. The exchange of detainees that the Taliban has raised in the past, and we certainly expect that they will raise it as they have publicly as a part of these discussions," she said.
Responding to questions, Psaki said the Taliban are a specially designated global terrorist entity by the US.
"They have not been designated as a foreign terrorist organisation," she said.