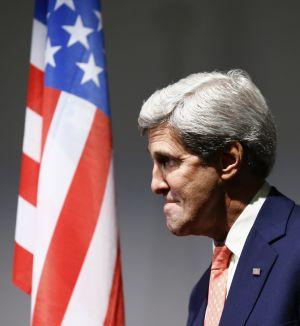 United States Secretary of State John Kerry was heading to Geneva to participate in the US-led six nation P5 plus One talks with Iran on its contentious nuclear weapons program.
"After consulting with EU High Representative Ashton and the negotiating team on the ground, Secretary Kerry will travel to Geneva later today with the goal of continuing to help narrow the differences and move closer to an agreement," the State Department spokesperson Jen Psaki said on Friday.
The six nation's P5 plus one comprises of the US, Britain, France, China, Russia and Germany.
Later a State Department spokesperson confirmed that Kerry decided to travel to Geneva with the hope that a deal could be reached.
"He made the decision to travel here with the hope that an agreement will be reached," the State Department Deputy Spokesperson, Marie Harf said.
White House Press Secretary Jay Carney said that the P-5 plus one is unified on the offer that has been made to the Iranians.
"We hope that an agreement can be reached," Carney said.
"We believe that the first round that indicated that it is at least possible to reach an agreement..., and an agreement that allows for a verifiable decision by Iran to halt any progress on its nuclear program and to roll back key aspects of it, as we've discussed. On the parameters of that agreement we have all, in the P-5 plus one, been in consensus and continue to be," Carney said.
In Geneva -- the venue of the P5 plus one talk with Iran -- the day began with European Union High Representative Catherine Ashton and the EU delegation sitting back down at the negotiating table with the Iranian Foreign Minister Javad Zarif and the Iranian team to keep working to narrow gaps in the text.
While the talks were going on, technical experts were also meeting.
"We are open to Iran having a peaceful program. Obviously, this is part of what's being discussed in the negotiations. We don't recognise that any country has a right to enrich. We have said that's been our policy for decades," Paski said.
"Iran has been saying for decades that they believe they have the right to enrich. So what we're working through is whether those two positions can be reconciled through the negotiations and through an agreement, and that's what we're hopeful of," she added.
Photograph: Reuters