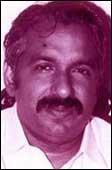 Five days after he took over from A K Antony, Kerala Chief Minister Oommen Chandy on Saturday announced the list of 10 Congress ministerial nominees amidst rumblings in the camp of senior leader K Karunakaran.
Prominent among those figuring in the entirely new team were Assembly Speaker Vakkom Purushothaman, Aryadan Mohammad and Antony loyalist Thiruvanchur Radhakrishnan.
Others to get ministerial berths are
Adoor Prakash,
K P Viswanathan,
K K Ramachandran Master,
K C Venugopal,
N Sakthan,
Dominic Presentation,
A P Anil Kumar.
No member of the Antony cabinet has been re-nominated.
While Purushothaman, Aryadam Mohammad, K P Viswanathan and Ramachandran Master had served as ministers at different points of time, the remaining six are first-timers.
Therambil Ramakrishnan is expected to be made the speaker in place of Vakkom Purushothaman and former KPCC chief P P Thankachan will take over as convener of the United Democratic Front, a position held by Chandy before his elevation as chief minister.
The Indian Union Muslim League and Kerala Congress (Mani) would be announcing their cabinet nominees later in the day. Kerala Congress (Jacob) and Kerala Congress (Pillai) factions have been left out. Their places will be taken by the Congress whose representation in the ministry would go up to 11 from nine in the previous cabinet.
Chandy had returned to Thiruvananthapuram on Saturday morning from Delhi after discussing the names with the Congress high command. He then submitting the list to Governor R L Bhatia before making it public.
Meanwhile, senior Congress leader K Karunakaran met the governor amidst reports that he is unhappy with the list of ministers.
His supporters had held a meeting at the senior leader's residence earlier in the morning. Three of the 10 members in the list - Adoor Prakash, A P Anilkumar and N Sakthan - are his supporters but some of his hard-core loyalists have been excluded.
Chandy told reporters that the ministers were not chosen on factional lines. "All other relevant factors had been taken into account. It may not have satisfied all. As a Congressman, I am bound to obey the high command," he said.
Asked whether the Congress had prevailed upon the League to change its nominees, he said each UDF constituent would decide its nominees.
The new ministers will be sworn in on Sunday.
Also Read:
Oommen Chandy sworn in as Kerala CM
Oomen Chandy: Shrewd but widely admired politician
Challenges before the new Kerala CM