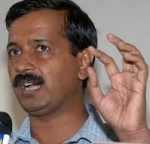 Expressing solidarity with the protest against the gang-rape of a girl in New Delhi, Arvind Kejriwal-led Aam Aadmi Party on Sunday sought immediate enactment of the Sexual Assault Bill either by bringing an ordinance or by convening a special session of Parliament.
"The Parliament must immediately enact the Sexual Assault Bill (currently pending before Lok Sabha) either through a special session or an ordinance," AAP said in a release.
"We appeal to the protesters to maintain the peaceful and democratic character of this protest, despite grave provocation from police forces. We call upon this spontaneous movement to guard against miscreants whose irresponsible action may provide the establishment with the excuse that they have been looking for," it said.
Terming the ongoing protest as "historic" and "democratic upsurge", the newly-formed party said it is with the protesters in this historic movement, meant to hold the rulers "accountable".
"A wave of shock, grief and anger has swept the country over the last one week. A brave and unfortunate girl, fighting for her life, has become the national symbol of women's insecurity and their determination," the release said and condemned the use of force against the protesters. It also suggested some amendments in the Bill, saying that there should be a "wider definition" of term 'sexual assault' to cover a case like the instant one.
There should be a provision for "stricter punishment for all forms of sexual assault, leaving no scope for the judge to reduce the punishment."
The AAP said that the Bill should also provide for a 'time bound investigation' in every such case with a penalty for "delay or negligence".
Fast track courts be constituted and verdicts be delivered within three months, it said.