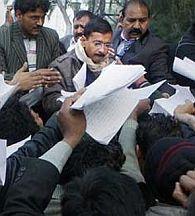 Slum-dwellers Shabhanam and Azharuddin are clueless about the status of the complaint regarding their missing daughter which they had lodged with Arvind Kejriwal's public grievance redressal system as its helpdesk has remained "unmanned" ever since the Aam Aadmi Party government quit office in Delhi.
Following "police inaction" for nearly two months over the complaint about their missing daughter, the couple had on February 6 approached the grievance redressal system launched by the AAP government.
They were issued a receipt acknowledging their complaint and also given an assurance that the authorities concerned would be asked to look into the matter.
However, just one week after that, Kejriwal resigned along with his council of ministers, rendering the couple clueless about the fate of their complaint.
On Friday, when they approached the grievance redressal helpdesk, situated in the ground floor of Delhi Secretariat, the staff at the office told them to come back next week.

"Nobody is helping us. I have lost my daughter and police is not doing anything. Here also I was told that no officer is present to listen to our grievances. I do not know what to do," Shabhanam said.
Shabhanam and Azharuddin's is not the only such case; scores of other complainants are also facing a similar situation with all of them having been turned away by the helpdesk.
As the public grievance system was directly monitored by the chief minister's office and AAP volunteers, its helpdesk has become almost defunct since the fall of the Delhi government.
Said a staff in the helpdesk room, "New officials are yet to join office to operate this unit. For the last few days (February 15 to 21), there hardly has been any complaints and the few who approached us have been asked to come later."

Following the launch of the helpdesk on January 13, hundreds of people had approached it with their complaints. In the past one month, around 10,000 complaints were received.
While hundreds of grievances were addressed by the AAP government, many remain pending.

However, much to the relief of these complainants, Delhi Lt Governor Najeeb Jung, who is administering Delhi after President's rule was imposed here on February 17, on Friday directed the chief secretary to chalk out a proper plan for the redressal of public grievances.

Jung reviewed the functioning of various helplines run by Delhi government and issued directions to officials to ensure that all facilities for grievance redressal remain in place with a regular assessment to be done of their performance.

He also issued a direction for officials to carry out a proper review of complaints before registering them to ensure better management of grievance redressal.
"Grievances should be carefully reviewed at the time of registration and after following proper procedure, complaints can be registered... That would help in efficient disposal of such grievances," he told officials.