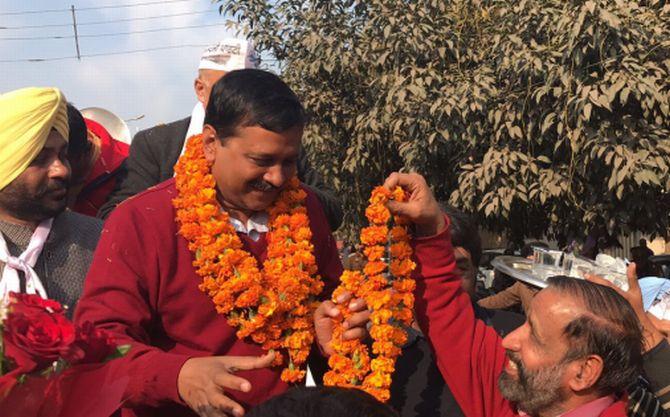 Thumbing his nose at the Election Commission, Delhi Chief Minister Arvind Kejriwal on Friday asked voters in Punjab to accept money offered by political parties but 'fool' them by voting only for the Aam Aadmi Party, days after Goa's poll panel chief took cognisance of similar remarks allegedly made by the Delhi CM.
"The state goes to polls on February 4. All parties will give you money. Accept it, but vote only for the AAP," Kejriwal told a gathering in Punjab's Jalandhar during electioneering.
Goa Chief Electoral Officer Kunal had said on January 9 that he had had received information about Kejriwal asking people to accept money to vote and that he would send a report to the Election Commission of India for further action.
The report, however, was not sent to the EC till Thursday.
"We had sought a detailed report from District Election Officer (South) on Kejriwal's speech. But we are yet to receive any report from them.
"The District Election Office is yet to receive authenticated CD of the speech by Kejriwal due to which they have not sent the report," Additional Chief Electoral Officer Narayan Navti had told reporters in Panaji on Thursday.
While addressing an election rally in Benaulim constituency on Saturday last, Kejriwal had reportedly told voters, "If Congress or BJP (Bharatiya Janata Party) candidates offer money, do not refuse it.
"Accept it as it is your own money and there is nothing wrong in getting it back. If they do not offer money, go to their offices and ask for it. But, when it comes to voting, press the button against the name of the AAP candidate."
Photograph: AAP chief Arvind Kejriwal during a roadshow in Jalandhar on Friday. Photograph: @AAPPunjab2017/Twitter